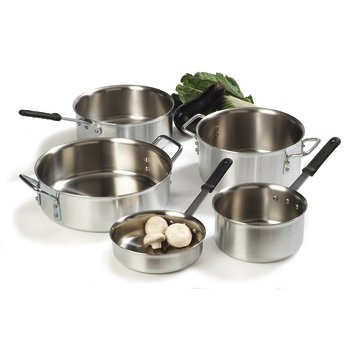 Finest 18-8 stainless interior is permanently bonded to hard aluminum body to create the ultimate cookware for any foodservice environment.
Aluminum body ensures maximum heat transfer throughout the pan and eliminates hot spots and scorching
Easy care stainless interior is incredibly durable and will not react with food or discolor sauces
Special rivet design securely attaches handle to pan
Bond will not loosen like traditional rivets
Optional tight fitting covers maintain moist heat
NSF Listed
Brazier
Brazier's wide aluminum body and stainless steel interior are the perfect combination for both searing over high heat and slow cooking over low heat.
Combine with 60424 cover to create a dutch oven for moist, tender, and flavorful dishes
Brazier has two side loop handles for easy lifting
Sauté Pans
Rapid heating pans with smooth stainless interiors are perfect for quick-cooking foods over high heat with a minimal amount of oil; seals in color, flavor, and nutrients.
Straight sides keep food in the pan when stirring rapidly
Great for stir-frying and poaching
Product
Description
Case
Case
Diameter
Capacity
Depth
List Price1
Pack
Weight
Cube
Weight
Cube
60724RS
6 qt SSAL 2000™ Sauté Pan (60424)
6ea
17.00lb
1.85ft³
7.71kg
0.05m³
12.88in
32.72cm
6.00qt
5.68l
2.75in
6.99cm
$

224.49

ea
Covers
Carlisle suggested domestic U.S. list prices shown, dealer prices vary.