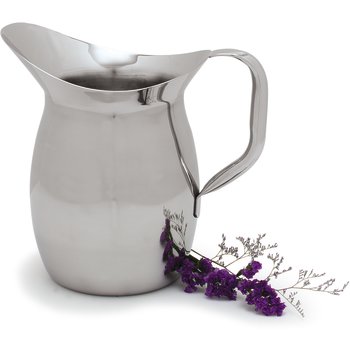 Clean design is ideal for room service, table settings, or meeting and conference rooms.
Look of silver, with the durability of stainless steel
Mirror polished, heavy-duty 18-8 stainless steel
Features insulated, easy-open flip lid and stay-cool hollow handle
Handwashing recommended.
Product
Description
Case
Case
Height
Capacity
Base Diameter
Top Diameter
List Price1
Pack
Weight
Cube
Weight
Cube
609270
2qt Stainless Steel Bell Pitcher
1ea
2.00lb
0.22ft³
0.91kg
0.01m³
8.50in
21.59cm
2.00qt
1.89l
3.50in
8.89cm
6.26in
15.90cm
$

137.24

ea
609273
3qt Stainless Steel Bell Pitcher
1ea
3.00lb
0.38ft³
1.36kg
0.01m³
9.00in
22.86cm
3.00qt
2.84l
5.00in
12.70cm
7.50in
19.05cm
$

148.44

ea
Carlisle suggested domestic U.S. list prices shown, dealer prices vary.