This discontinued item is only available while supplies last.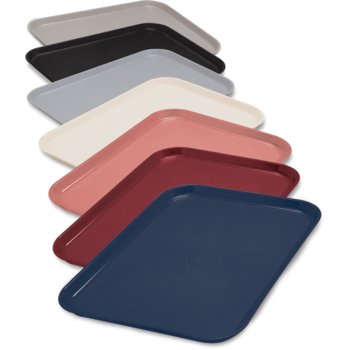 View/Download Pictures
Details
Item #

DX1089I56

Product #

DX1089I

Color

56 - Mauve
Case Pack

1 cs

Inner Pack Size

12 ea

Each UPC

753806370128

Case GTIN

00753806370128
Invoice Description

TRAY GSTL 14X18 RCT(12) DK MVE
Brand
Dishwasher Safe
Features
Durable serving trays are molded from sturdy fiberglass
Steel-band reinforced edging
Flat trays are available in seven decorator colors
Color coordinated with other Dinex products
Dishwasher safe
Will not warp or split under normal daily use
We do not accept returns on any Dinex equipment or Dinex custom products. Please contact your local Dinex rep to ensure order accuracy prior to ordering.
Tech Specs
US
Metric
Length
18.00in
45.72cm
Width
14.00in
35.56cm
Min Temperature
-20.00°F
-28.89°C
Max Temperature
275.00°F
135.00°C
Material
Fiberglass
Country of Origin

Mexico

Harmonized Code
392410.3000
Freight Class
65
Case Weight
16.00lb
7.26kg
Case Cube
0.69ft3
0.02m3
Case Length
18.00in
45.72cm
Case Width
14.75in
37.47cm
Case Height
4.50in
11.43cm
Pallet Case Qty
66
Pallet Tier
6
Pallet High
11
Related Products
Product
Description
Pack Size
Case
Pack
Weight
Cube
Tray Covers
DX5016I
Garden Trellis Pattern Size: I w/ Straight Edge/Round Corner 12-3/4"x16-5/8" (1000/cs)
1000ea
1cs
17.00lb
0.56ft³
DX5055I202833
Jane's BouquetPattern Size: I w/ Straight Edge/Round Corner 12-3/4"x16-5/8" (1000/cs)
1000ea
1cs
17.00lb
0.56ft³
DX5081I202733NS
Iris Garden Non-Skid Traycover Size: I w/ Straight Edge/Round Corner 12-3/4" x 16-5/8" (1000/cs)
1000ea
1cs
18.30lb
0.56ft³
DX5225IR
Sage Garden Recycled Traycover w/ Straight Edge/Round Corner 12-3/4" x 16-5/8" (1000/cs)
1000ea
1cs
18.50lb
0.56ft³
DX5242I
Marisa Recycled Traycover Size: I w/Straight Edge/Round Corner 12-3/7" x 16-5/8" (1000/cs)
1000ea
1cs
17.00lb
0.56ft³
DX5243I
Freesia Recycled Traycover Size: I w/ Straight Edge/Round Corner 12-3/4" x 16-5/8" (1000/cs)
1000ea
1cs
17.00lb
0.42ft³
DX5320I
Traymat Size: I Marbled Elegance 12-3/4" x 16-5/8" (1000cs/cs)
1000cs
1cs
17.00lb
0.56ft³
DX5323I
Watercolors Traycover Size: I w/ Straight Edge/Round Corner 12-3/4" x 16-5/8" (1000/cs)
1000ea
1cs
18.50lb
0.56ft³
DX5329I
Orchid Borders Traycover Size: I w/ Straight Edge/Round Corner 12-3/4" x 16-5/8" (1000/cs)
1000ea
1cs
0.50lb
DX5331I
Retro Traycover Size: I w/ Straight Edge/Round Corner 12-3/4" x 16-5/8" (1000/cs)
1000ea
1cs
0.50lb
DX5332I
Aztec Traycover Size: I w/ Straight Edge/Round Corner 12-3/4" x 16-5/8" (1000/cs)
1000ea
1cs
0.50lb
DX5333I
Vertese Traycover Size: I w/Straight Edge/Round Corner 12-3/4" x 16-5/8" (1000/cs)
1000ea
1cs
0.50lb
DX5350I
Filigree Design Traycover Size: I w/ Straight Edge/Round Corner 12-3/4" x 16-5/8" (1000/cs)
1000ea
1cs
18.10lb
0.53ft³
DX5999I00102
White Embossed Traycover Size: I w/ Scalloped Edge/Round Corner 12-3/4" x 16-5/8" (2000/cs)
2000ea
1cs
36.20lb
1.07ft³
DXR30842I
Floret Design Traycover Size: I w/ Scalloped Edge/Round Corner 12-3/4" x 16-5/8" (1000/cs)
1000ea
1cs
17.00lb
0.56ft³
Related Products
Product
Pack Size
Case
Length
Width
Min Temperature
Max Temperature
Pack
Weight
Cube
Tray Covers
DX5016I
1000ea
1cs
17.00lb
0.56ft3
16.62in
12.75in
-40.00°F
400.00°F
DX5055I202833
1000ea
1cs
17.00lb
0.56ft3
16.62in
12.75in
-40.00°F
400.00°F
DX5081I202733NS
1000ea
1cs
18.30lb
0.56ft3
16.62in
12.75in
-40.00°F
400.00°F
DX5225IR
1000ea
1cs
18.50lb
0.56ft3
16.62in
12.75in
-40.00°F
400.00°F
DX5242I
1000ea
1cs
17.00lb
0.56ft3
16.62in
12.75in
-40.00°F
400.00°F
DX5243I
1000ea
1cs
17.00lb
0.42ft3
16.62in
12.75in
-40.00°F
400.00°F
DX5320I
1000cs
1cs
17.00lb
0.56ft3
16.62in
12.75in
-40.00°F
400.00°F
DX5323I
1000ea
1cs
18.50lb
0.56ft3
16.62in
12.75in
-40.00°F
400.00°F
DX5329I
1000ea
1cs
0.50lb
16.62in
12.75in
-40.00°F
400.00°F
DX5331I
1000ea
1cs
0.50lb
16.62in
12.75in
-40.00°F
400.00°F
DX5332I
1000ea
1cs
0.50lb
16.62in
12.75in
-40.00°F
400.00°F
DX5333I
1000ea
1cs
0.50lb
16.62in
12.75in
-40.00°F
400.00°F
DX5350I
1000ea
1cs
18.10lb
0.53ft3
16.62in
12.75in
-40.00°F
400.00°F
DX5999I00102
2000ea
1cs
36.20lb
1.07ft3
16.62in
12.75in
-40.00°F
400.00°F
DXR30842I
1000ea
1cs
17.00lb
0.56ft3
16.62in
12.75in
-40.00°F
400.00°F
Related Products
Product
Pack Size
Case
Length
Width
Min Temperature
Max Temperature
Pack
Weight
Cube
Tray Covers
DX5016I
1000ea
1cs
17.00kg
0.56m3
42.23cm
32.38cm
-40.00°C
204.44°C
DX5055I202833
1000ea
1cs
17.00kg
0.56m3
42.23cm
32.38cm
-40.00°C
204.44°C
DX5081I202733NS
1000ea
1cs
18.30kg
0.56m3
42.23cm
32.38cm
-40.00°C
204.44°C
DX5225IR
1000ea
1cs
18.50kg
0.56m3
42.23cm
32.38cm
-40.00°C
204.44°C
DX5242I
1000ea
1cs
17.00kg
0.56m3
42.23cm
32.38cm
-40.00°C
204.44°C
DX5243I
1000ea
1cs
17.00kg
0.42m3
42.23cm
32.38cm
-40.00°C
204.44°C
DX5320I
1000cs
1cs
17.00kg
0.56m3
42.23cm
32.38cm
-40.00°C
204.44°C
DX5323I
1000ea
1cs
18.50kg
0.56m3
42.23cm
32.38cm
-40.00°C
204.44°C
DX5329I
1000ea
1cs
0.50kg
42.23cm
32.38cm
-40.00°C
204.44°C
DX5331I
1000ea
1cs
0.50kg
42.23cm
32.38cm
-40.00°C
204.44°C
DX5332I
1000ea
1cs
0.50kg
42.23cm
32.38cm
-40.00°C
204.44°C
DX5333I
1000ea
1cs
0.50kg
42.23cm
32.38cm
-40.00°C
204.44°C
DX5350I
1000ea
1cs
18.10kg
0.53m3
42.23cm
32.38cm
-40.00°C
204.44°C
DX5999I00102
2000ea
1cs
36.20kg
1.07m3
42.23cm
32.38cm
-40.00°C
204.44°C
DXR30842I
1000ea
1cs
17.00kg
0.56m3
42.23cm
32.38cm
-40.00°C
204.44°C