This discontinued item is only available while supplies last.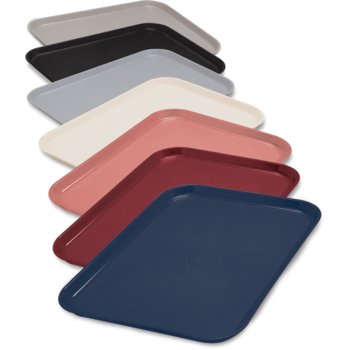 View/Download Pictures
Details
Item #

DX1089M56

Product #

DX1089M

Color

56 - Mauve
Case Pack

1 cs

Inner Pack Size

12 ea

Each UPC

753806370098

Case GTIN

00753806370098
Invoice Description

TRAY GSTL 20X15 RCT (12) DK MAUVE
Brand
National Sanitation Foundation
For 60 years, NSF has been committed to public health, safety, and protection of the environment. While focusing on food, water, indoor air, and the environment, NSF develops national standards, provides learning opportunities through its Center for Public Health Education, and provides third-party conformity assessment services while representing the interests of all stakeholders. The primary stakeholder groups include industry, the regulatory community, and the public at large.

NSF is widely recognized for its scientific and technical expertise in the health and environmental sciences. Its professional staff includes engineers, chemists, toxicologists, and environmental health professionals with broad experience both in public and private organizations.
NSF Official Website

Dishwasher Safe
Features
Nothing beats these trays for healthcare meal delivery
Durable serving trays are molded from sturdy fiberglass with steel-band reinforced edging
Stronger and much more stable than molded plastic serving trays
Flat trays are available in seven decorator colors
Color coordinated with other Dinex products
Trays are dishwasher safe
Will not warp or split under normal daily use
We do not accept returns on any Dinex equipment or Dinex custom products. Please contact your local Dinex rep to ensure order accuracy prior to ordering.
Tech Specs
US
Metric
Length
20.00in
50.80cm
Width
15.00in
38.10cm
Min Temperature
-20.00°F
-28.89°C
Max Temperature
275.00°F
135.00°C
Material
Fiberglass
Country of Origin

Mexico

Harmonized Code
392410.3000
Freight Class
60
Case Weight
29.00lb
13.15kg
Case Cube
0.82ft3
0.02m3
Case Length
21.25in
53.98cm
Case Width
15.25in
38.73cm
Case Height
4.38in
11.13cm
Pallet Case Qty
55
Pallet Tier
5
Pallet High
11
Related Products
Product
Description
Pack Size
Case
Pack
Weight
Cube
Tray Covers
DX5016M
Garden Trellis-Straight Edge/Round Corner- fits 15"x20" Try 13-5/8"x18-3/4" (1000/cs)
1000ea
1cs
21.10lb
0.66ft³
DX5055M202833
Jane's Bouquet Pattern Size: M w/Straight Edge/Round Corner 13-5/8"x18-3/4" (1000/cs)
1000ea
1cs
21.10lb
0.49ft³
DX5081M202733
Iris Garden Design Traycover Size: M w/ Straight Edge/Round Corner 13-5/8" x 18-3/4" (1000/cs)
1000ea
1cs
21.10lb
0.49ft³
DX5081M202733NS
Iris Garden Pattern Size: M w/ Straight Edge/Round Corner Non-Skid 13-5/8" x 18-3/4" (1000/cs)
1000ea
1cs
24.50lb
0.64ft³
DX5091M0000
Jenny Park Traycover Size: M w/ Straight Edge/Round Corner 13-5/8"x18-3/4" (1000/cs)
1000ea
1cs
21.10lb
0.66ft³
DX5220MR
Avanti Design Traycover Size: M w/ Straight Edge/Round Corner 13-5/8"x18-3/4" (1000/cs)
1000ea
1cs
21.90lb
0.66ft³
DX5220MRNS
Avanti(non-skid) Straight Edge/Round Corner- fits 15"x20" Tray 13-5/8"x18-3/4" (1000/cs)
1000ea
1cs
24.50lb
0.66ft³
DX5224MR
Healthy Diet(recycled) Straight Edge/Round Corner-fits 15"x20" Tray 13-5/8"x18-3/4" (1000/cs)
1000ea
1cs
21.50lb
0.66ft³
DX5225MR
Sage Garden(recycled) Straight Edge/Round Corner-fits 15"x20" Tray 13-5/8" x 18-3/4" (1000/cs)
1000ea
1cs
21.50lb
0.66ft³
DX5242M
Marisa Traycover Size: M w/ Straight Edge/Round Corner 13-5/8" x 18-3/4" (1000/cs)
1000ea
1cs
21.90lb
0.49ft³
DX5243M
Freesia Traycover Size: M w/ Straight Edge/Round Corner 13-5/8" x 18-3/4" (1000/cs)
1000ea
1cs
21.90lb
0.49ft³
DX5320M
Marbled Elegance Pattern Size: M w/Straight Edge/Round Corner 13-5/8"x18-3/4" (1000/cs)
1000ea
1cs
21.10lb
0.49ft³
DX5320MNS
Marble Elegance (non-skid) Straight Edge/Round Corener-fits 15"x20" Tray 13-5/8"x18-3/4" (1000/cs)
1000ea
1cs
24.50lb
0.66ft³
DX5323M
Waterscolors Traycover Size: M w/ Straight Edge/Round Corner 13-5/8" x 18-3/4" (1000/cs)
1000ea
1cs
21.50lb
0.66ft³
DX5329M
Orchid Borders Traycover Size: M w/ Straight Edge/Round Corner 13-5/8" x 18-3/4" (1000/cs)
1000ea
1cs
1.00lb
0.74ft³
DX5331M
Retro Traycover Size: M w/Straight Edge/Round Corner 13-5/8" x 18-3/4" (1000/cs)
1000ea
1cs
18.00lb
0.74ft³
DX5332M
Aztec TrayCover Size: M w/Straight Edge/Round Corner 13-5/8" x 18-3/4" (1000/cs)
1000ea
1cs
21.50lb
0.74ft³
DX5333M
Vertese Traycover Size: M w/ Straight Edge/Round Corner 13-5/8" x 18-3/4" (1000/cs)
1000ea
1cs
21.50lb
0.49ft³
DX5350M
Filigree Traycover Size; M w/Straight Edge/Round Corner 13-5/8" x 18-3/4" (1000/cs)
1000ea
1cs
21.50lb
0.49ft³
DX5999M00102
White Embossed, Scalloped Edge/ Round Corner 13-5/8" x 18-3/4" (2000/cs)
2000ea
1cs
43.00lb
1.33ft³
DXR30001M
Illusions Pattern Tray Cover Size: M w/Scalloped Edge/Round Corner 13-5/8" x 18-3/4" (1000/cs)
1000ea
1cs
21.10lb
0.66ft³
DXR30843M
Floret Traycover Size: M w/ Scalloped Edge/Round Corner 13-5/8" x 18-3/4" (1000/cs)
1000ea
1cs
21.10lb
0.66ft³
Related Products
Product
Pack Size
Case
Length
Width
Min Temperature
Max Temperature
Pack
Weight
Cube
Tray Covers
DX5016M
1000ea
1cs
21.10lb
0.66ft3
18.75in
13.62in
-40.00°F
400.00°F
DX5055M202833
1000ea
1cs
21.10lb
0.49ft3
18.75in
13.62in
-40.00°F
400.00°F
DX5081M202733
1000ea
1cs
21.10lb
0.49ft3
18.75in
13.62in
-40.00°F
400.00°F
DX5081M202733NS
1000ea
1cs
24.50lb
0.64ft3
18.75in
13.62in
-40.00°F
400.00°F
DX5091M0000
1000ea
1cs
21.10lb
0.66ft3
18.75in
13.62in
-40.00°F
400.00°F
DX5220MR
1000ea
1cs
21.90lb
0.66ft3
18.75in
13.62in
-40.00°F
400.00°F
DX5220MRNS
1000ea
1cs
24.50lb
0.66ft3
18.75in
13.62in
-40.00°F
400.00°F
DX5224MR
1000ea
1cs
21.50lb
0.66ft3
18.75in
13.62in
-40.00°F
400.00°F
DX5225MR
1000ea
1cs
21.50lb
0.66ft3
18.75in
13.62in
-40.00°F
400.00°F
DX5242M
1000ea
1cs
21.90lb
0.49ft3
18.75in
13.62in
-40.00°F
400.00°F
DX5243M
1000ea
1cs
21.90lb
0.49ft3
18.75in
13.62in
-40.00°F
400.00°F
DX5320M
1000ea
1cs
21.10lb
0.49ft3
18.75in
13.62in
-40.00°F
400.00°F
DX5320MNS
1000ea
1cs
24.50lb
0.66ft3
18.75in
13.62in
-40.00°F
400.00°F
DX5323M
1000ea
1cs
21.50lb
0.66ft3
18.75in
13.62in
-40.00°F
400.00°F
DX5329M
1000ea
1cs
1.00lb
0.74ft3
18.75in
13.62in
-40.00°F
400.00°F
DX5331M
1000ea
1cs
18.00lb
0.74ft3
18.75in
13.62in
-40.00°F
400.00°F
DX5332M
1000ea
1cs
21.50lb
0.74ft3
18.75in
13.62in
-40.00°F
400.00°F
DX5333M
1000ea
1cs
21.50lb
0.49ft3
18.75in
13.62in
-40.00°F
400.00°F
DX5350M
1000ea
1cs
21.50lb
0.49ft3
18.75in
13.62in
-40.00°F
400.00°F
DX5999M00102
2000ea
1cs
43.00lb
1.33ft3
18.75in
13.62in
-40.00°F
400.00°F
DXR30001M
1000ea
1cs
21.10lb
0.66ft3
18.75in
13.62in
-40.00°F
400.00°F
DXR30843M
1000ea
1cs
21.10lb
0.66ft3
18.75in
13.62in
-40.00°F
400.00°F
Related Products
Product
Pack Size
Case
Length
Width
Min Temperature
Max Temperature
Pack
Weight
Cube
Tray Covers
DX5016M
1000ea
1cs
21.10kg
0.66m3
47.62cm
34.61cm
-40.00°C
204.44°C
DX5055M202833
1000ea
1cs
21.10kg
0.49m3
47.62cm
34.61cm
-40.00°C
204.44°C
DX5081M202733
1000ea
1cs
21.10kg
0.49m3
47.62cm
34.61cm
-40.00°C
204.44°C
DX5081M202733NS
1000ea
1cs
24.50kg
0.64m3
47.62cm
34.61cm
-40.00°C
204.44°C
DX5091M0000
1000ea
1cs
21.10kg
0.66m3
47.62cm
34.61cm
-40.00°C
204.44°C
DX5220MR
1000ea
1cs
21.90kg
0.66m3
47.62cm
34.61cm
-40.00°C
204.44°C
DX5220MRNS
1000ea
1cs
24.50kg
0.66m3
47.62cm
34.61cm
-40.00°C
204.44°C
DX5224MR
1000ea
1cs
21.50kg
0.66m3
47.62cm
34.61cm
-40.00°C
204.44°C
DX5225MR
1000ea
1cs
21.50kg
0.66m3
47.62cm
34.61cm
-40.00°C
204.44°C
DX5242M
1000ea
1cs
21.90kg
0.49m3
47.62cm
34.61cm
-40.00°C
204.44°C
DX5243M
1000ea
1cs
21.90kg
0.49m3
47.62cm
34.61cm
-40.00°C
204.44°C
DX5320M
1000ea
1cs
21.10kg
0.49m3
47.62cm
34.61cm
-40.00°C
204.44°C
DX5320MNS
1000ea
1cs
24.50kg
0.66m3
47.62cm
34.61cm
-40.00°C
204.44°C
DX5323M
1000ea
1cs
21.50kg
0.66m3
47.62cm
34.61cm
-40.00°C
204.44°C
DX5329M
1000ea
1cs
1.00kg
0.74m3
47.62cm
34.61cm
-40.00°C
204.44°C
DX5331M
1000ea
1cs
18.00kg
0.74m3
47.62cm
34.61cm
-40.00°C
204.44°C
DX5332M
1000ea
1cs
21.50kg
0.74m3
47.62cm
34.61cm
-40.00°C
204.44°C
DX5333M
1000ea
1cs
21.50kg
0.49m3
47.62cm
34.61cm
-40.00°C
204.44°C
DX5350M
1000ea
1cs
21.50kg
0.49m3
47.62cm
34.61cm
-40.00°C
204.44°C
DX5999M00102
2000ea
1cs
43.00kg
1.33m3
47.62cm
34.61cm
-40.00°C
204.44°C
DXR30001M
1000ea
1cs
21.10kg
0.66m3
47.62cm
34.61cm
-40.00°C
204.44°C
DXR30843M
1000ea
1cs
21.10kg
0.66m3
47.62cm
34.61cm
-40.00°C
204.44°C