This discontinued item is only available while supplies last.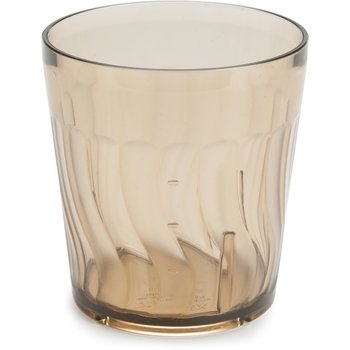 View/Download Pictures
Details
Item #

DX4GC918

Product #

DX4GC9

Color

18 - Smoke
Case Pack

1 cs

Inner Pack Size

72 ea

Case GTIN

10753806037691
Invoice Description

TUMBLER 9OZ SWIRL SMOKE 72/PK
Brand
Features
Non-insulated tumblers available in three styles, 6, 9 and 12 oz. sizes
Use with the convenient straw slot lid
Contemporary swirl design offers a coordinated place setting
We do not accept returns on any Dinex equipment or Dinex custom products. Please contact your local Dinex rep to ensure order accuracy prior to ordering.
* SAN is resistant to staining, breaking and chipping.
Available Colors
Item
Color
DX4GC903
Not Applicable

DX4GC907
Clear
DX4GC918
Smoke
DX4GC954
Blue


denotes items that are special order only
Tech Specs
US
Metric
Height
3.38in
8.57cm
Diameter
3.25in
8.26cm
Max Temperature
180.00°F
82.22°C
Flush Fill Capacity
10.10fl oz
0.30l
Material
SAN
Country of Origin

Mexico

Harmonized Code
392410.4000
Freight Class
70
Case Weight
14.30lb
6.49kg
Case Cube
0.90ft3
0.03m3
Case Length
20.00in
50.80cm
Case Width
10.55in
26.80cm
Case Height
7.33in
18.62cm
Pallet Case Qty
48
Pallet Tier
8
Pallet High
6
Related Products
Product
Description
Pack Size
Case
Pack
Weight
Cube
Lids
DXTT58
Disposable Lid with Straw Slot - Fits Specific 9 - 16 oz Dinex, Carlisle, Cambro and G.E.T. Enterprises Tumblers (1000/cs)
1000ea
1cs
4.54lb
0.94ft³
Suggested Glass Racks
RG25-1
OptiClean™ 25 Compartment Glass Rack with 1 Extender 5.56"
4ea
29.30lb
5.58ft³
Related Products
Product
Pack Size
Case
Length
Width
Height
Diameter
Min Temperature
Max Temperature
Compartment Width
Inside Height
Outside Height
Pack
Weight
Cube
Lids
DXTT58
1000ea
1cs
4.54lb
0.94ft3
2.62in
30.00°F
190.00°F
Suggested Glass Racks
RG25-1
4ea
29.30lb
5.58ft3
19.88in
19.88in
5.56in
200.00°F
3.54in
4.77in
5.56in
Related Products
Product
Pack Size
Case
Length
Width
Height
Diameter
Min Temperature
Max Temperature
Compartment Width
Inside Height
Outside Height
Pack
Weight
Cube
Lids
DXTT58
1000ea
1cs
4.54kg
0.94m3
6.67cm
-1.11°C
87.78°C
Suggested Glass Racks
RG25-1
4ea
29.30kg
5.58m3
50.48cm
50.48cm
14.12cm
93.33°C
8.99cm
12.12cm
14.12cm