This discontinued item is only available while supplies last. Replace with: 40352C05.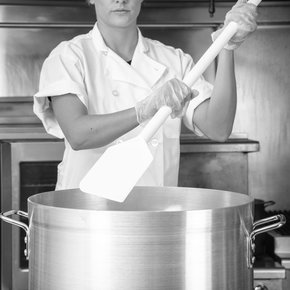 Details
Item Number

4035205
Case Pack

6 ea
Features
Ideal for large kettle mixing and stirring
4-1/2" x 7-1/2", soft flexible nylon (300 degrees F) blade sharpens and contours to your specific application with usage
Smooth finished, water-proof construction for easy clean-up
Long handle versions are ideal for vats and large pots
40" plastic handle
This product was made in the USA.

Dishwasher Safe

Recyclable: "7" signifies other plastics, such as acrylic, nylon, polycarbonate and polylactic acid (PLA).

Stock It.
This symbol designates our top selling & readily available items.

Search "Stock It" for a complete listing of Carlisle's Stock It products.
Available in 3 Colors
Other Products from Sparta® Spatulas & Paddle Scrapers
Tech Specs
US
Metric
Head Length
7.50in
19.05cm
Head Width
4.50in
11.43cm
Overall Length
40.00in
101.60cm
Thickness
0.25in
0.64cm
Material
Nylon
Country of Origin

United States

Each UPC
085404145144
Case GTIN
10085404945710
Tech Specs

US
Metric
Case Weight
6.00lb
2.72kg
Case Cube
0.54ft3
0.02m3
Case Length
40.62in
103.19cm
Case Width
5.75in
14.61cm
Case Height
4.00in
10.16cm
Pallet Case Qty
88
Pallet Tier
8
Pallet High
11
Harmonized Code
392410.9000
Freight Class
92.5
description
Color-Coded Products Factsheet
1 MB (PDF)file_download
Spectrum Food Safety Brochure
7 MB (PDF)file_download