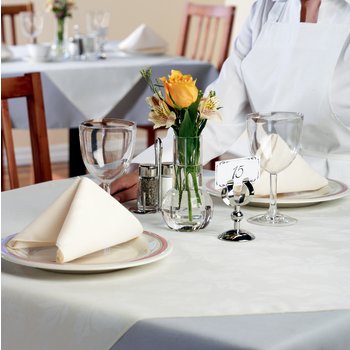 Carlisle FoodService is pleased to announce the Marko In-Stock Program. For the very first time, the most requested Marko table coverings, napkins, skirting and accessories are now available as stocked items.
No longer will you have to place a separate order for your most sought after Marko items. With Carlisle FoodService, you can count on Marko to be there for you.
For more information please contact your sales representative.
Product
Description
Case
Pack
Weight
Cube
Embrace
EMB5026RT830
Embrace Rectangular Cover - 1 Color in Stock
1ea
1.00lb
EMB5026AC830
Embrace Arch Cut Cover - 1 Color in Stock
1ea
1.00lb
EMB5026RT630
Embrace Rectangular Cover - 1 Color in Stock
1ea
1.00lb
EMB5026AC630
Embrace Arch Cut Cover - 1 Color in Stock
1ea
1.00lb
EMB5026R72
Embrace Round Table Cover - 1 Color in Stock
1ea
1.00lb
EMB5026R24
Embrace Round Table Cover - 1 Color in Stock
1ea
1.00lb
EMB5026HT30
Embrace Hi-Top Roud Table Cover - 1 Color in Stock
1ea
1.00lb
EMB5026TLC23
Embrace 23 gal TrimLine Cover - 1 Color in Stock
1ea
1.00lb
EMB5026WC35
Embrace 32 gal Waste Container Cover - 1 Color in Stock
1ea
1.00lb
EMB5026WC44
Embrace 44 gal Waste Container Cover - 1 Color in Stock
1ea
1.00lb
EMB5026WC55
Embrace 55 gal Waste Container Cover - 1 Color in Stock
1ea
1.00lb
EMB5026BS10
Embrace 10 gal Beverage Server Cover - 1 Color in Stock
1ea
1.00lb
EMB5026BS5
Embrace 5 gal Beverage Server Cover - 1 Color in Stock
1ea
1.00lb
EMB5026BS25
Embrace 2.5 gal Beverage Server Cover - 1 Color in Stock
1ea
1.00lb
EMB5026LTRC
Embrace Tray Stand Cover, >30" - 1 Color in Stock
1ea
1.00lb
EMB5026TRC
Embrace Tray Stand Cover, <30" - 1 Color in Stock
1ea
1.00lb
EMB5026TT27014
Embrace Tray Cover (Fits 27" x 22" Oval Tray)
1ea
1.00lb
Fabric Tablecloths
53785252SM
SoftWeave™ 52" x 52" - 3 Colors in Stock
1ea
1.00lb
537852AITM
SoftWeave™ 52" x 108" - 2 Colors in Stock
1ea
53785454SM
SoftWeave™ 54" x 54" - 1 Color in Stock
1ea
537854AUTM
SoftWeave™ 54" x 120" - 1 Color in Stock
1ea
53785858SM
SoftWeave™ 58" x 58"
1ea
1.15lb
0.12ft³
53787272SM
SoftWeave™ 72" x 72" - 1 Color in Stock
1ea
537876RM
SoftWeave™ Round 76"
1ea
1.40lb
0.16ft³
537890RM
SoftWeave™ Round 90" - 1 Color in Stock
1ea
53935252SM
SoftWeave™ Aspen Damask Tablecloth 52" x 52"
1ea
1.00lb
0.10ft³
Fabric Skirting
5024CE29AF
Trufinish™ Classic™ Twill Skirting 13', Shirred Pleat w/Hook & Loop Header and 24 550PC Clips
1ea
2.80lb
0.53ft³
5024EG29AF
Trufinish™ Classic™ Twill Skirting 17.5', Shirred Pleat w/Hook & Loop Header and 31 550PC Clips
1ea
3.60lb
1.50ft³
5024FW29AF
Trufinish™ Classic™ Twill Skirting 21', Shirred Pleat w/Hook & Loop Header and 38 550PC Clips
1ea
4.20lb
1.50ft³
Skirting Accessories
5CC55PC-
Overlock & Valance Clip, Hook & Loop Header
12ea
1.75lb
0.15ft³
5CC118MP-
12 Metal Skirting Clip, Hook & Loop Header
12ea
0.30lb
0.02ft³
5CC120MP-
12 Metal Skirting Clip, Hook & Loop Header
12ea
0.30lb
0.02ft³
5CC200PC-
12 Plastic Skirting Clip, Hook & Loop Header
12ea
0.25lb
0.02ft³
5CCCCLIP-
12 Plastic Skirting Clip, Hook & Loop Header
12ea
0.35lb
0.03ft³
5CCLCLIP-
12 Large Plastic Skirting Clip, Hook & Loop Header
12ea
0.40lb
0.06ft³
Fabric Napkins
53781717NM
SoftWeave™ Napkin 17" x 17" - 3 Colors in Stock
12ea
1.75lb
53782020NM
SoftWeave™ Napkin 20" x 20" - 3 Colors in Stock
12ea
1.75lb
0.15ft³
53771822NH
Bistro™ SoftWeave™ Striped Napkins 18" x 22"
12ea
1.75lb
0.14ft³
53931717NM
SoftWeave™ Aspen Damask Napkin 17" x 17"
12ea
1.75lb
0.13ft³
Vinyl Tablecloths
59035252SM
Vative Series Rove Tablecloth 52" x 52" - 1 Color in Stock
1ea
59085252SM
Vative Series Glimmer Tablecloth 52" x 52"
1ea
3.00lb
0.13ft³
51515252SM
Classic™ Series Tablecloth Check 52" x 52" - 1 Color in Stock
1ea
Clear Vinyl
53135054L
Clear Vinyl Roll, 4 Gauge, 54" Wide
1ea
15.20lb
0.74ft³
53182554L
Clear Vinyl Roll, 8 Gauge, 54" Wide
1ea
18.40lb
0.74ft³
53201554L
Clear Vinyl Roll, 12 Gauge, 54" Wide
1ea
19.95lb
0.74ft³
Misc Vinyl
5675CL
Pan Rack Cover
1ea
2.00lb
0.10ft³
5610AP
Vinyl Apron
12ea
9.25lb
0.77ft³
Product
Case
Length
Width
Height
Diameter
Min Temperature
Max Temperature
Gauge
Roll Length
Widest Diameter
Pack
Weight
Cube
Embrace
EMB5026RT830
1ea
1.00lb
96.00in
30.00in
30.00in
-40.00°F
140.00°F
EMB5026AC830
1ea
1.00lb
96.00in
30.00in
30.00in
-40.00°F
140.00°F
EMB5026RT630
1ea
1.00lb
72.00in
30.00in
30.00in
-40.00°F
140.00°F
EMB5026AC630
1ea
1.00lb
72.00in
30.00in
30.00in
-40.00°F
140.00°F
EMB5026R72
1ea
1.00lb
72.00in
72.00in
30.00in
-40.00°F
140.00°F
EMB5026R24
1ea
1.00lb
24.00in
24.00in
30.00in
-40.00°F
140.00°F
EMB5026HT30
1ea
1.00lb
30.00in
30.00in
30.00in
-40.00°F
140.00°F
EMB5026TLC23
1ea
1.00lb
20.00in
11.00in
30.00in
-40.00°F
140.00°F
EMB5026WC35
1ea
1.00lb
30.00in
30.00in
30.00in
-40.00°F
140.00°F
EMB5026WC44
1ea
1.00lb
30.00in
30.00in
36.00in
-40.00°F
140.00°F
EMB5026WC55
1ea
1.00lb
32.00in
32.00in
36.00in
-40.00°F
140.00°F
EMB5026BS10
1ea
1.00lb
21.00in
17.00in
30.00in
-40.00°F
140.00°F
EMB5026BS5
1ea
1.00lb
17.00in
27.00in
-40.00°F
140.00°F
11.00in
EMB5026BS25
1ea
1.00lb
17.00in
11.00in
20.00in
-40.00°F
140.00°F
EMB5026LTRC
1ea
1.00lb
24.00in
24.00in
42.00in
-40.00°F
140.00°F
EMB5026TRC
1ea
1.00lb
30.00in
30.00in
30.00in
-40.00°F
140.00°F
EMB5026TT27014
1ea
1.00lb
28.00in
23.00in
1.50in
-40.00°F
140.00°F
Fabric Tablecloths
53785252SM
1ea
1.00lb
52.00in
52.00in
-40.00°F
140.00°F
537852AITM
1ea
108.00in
52.00in
-40.00°F
140.00°F
53785454SM
1ea
54.00in
54.00in
-40.00°F
140.00°F
537854AUTM
1ea
120.00in
54.00in
-40.00°F
140.00°F
53785858SM
1ea
1.15lb
0.12ft3
58.00in
58.00in
-40.00°F
140.00°F
53787272SM
1ea
72.00in
72.00in
-40.00°F
140.00°F
537876RM
1ea
1.40lb
0.16ft3
76.00in
-40.00°F
140.00°F
537890RM
1ea
90.00in
-40.00°F
140.00°F
53935252SM
1ea
1.00lb
0.10ft3
52.00in
52.00in
-40.00°F
140.00°F
Fabric Skirting
5024CE29AF
1ea
2.80lb
0.53ft3
13.00ft
-40.00°F
140.00°F
5024EG29AF
1ea
3.60lb
1.50ft3
17.50ft
-40.00°F
140.00°F
5024FW29AF
1ea
4.20lb
1.50ft3
21.00ft
-40.00°F
140.00°F
Skirting Accessories
5CC55PC-
12ea
1.75lb
0.15ft3
1.00in
5CC118MP-
12ea
0.30lb
0.02ft3
0.75in
5CC120MP-
12ea
0.30lb
0.02ft3
0.75in
5CC200PC-
12ea
0.25lb
0.02ft3
2.50in
5CCCCLIP-
12ea
0.35lb
0.03ft3
1.00in
5CCLCLIP-
12ea
0.40lb
0.06ft3
1.00in
Fabric Napkins
53781717NM
12ea
1.75lb
17.00in
17.00in
-40.00°F
140.00°F
53782020NM
12ea
1.75lb
0.15ft3
20.00in
20.00in
-40.00°F
140.00°F
53771822NH
12ea
1.75lb
0.14ft3
18.00in
22.00in
-40.00°F
140.00°F
53931717NM
12ea
1.75lb
0.13ft3
17.00in
17.00in
-40.00°F
140.00°F
Vinyl Tablecloths
59035252SM
1ea
52.00in
52.00in
-40.00°F
140.00°F
59085252SM
1ea
3.00lb
0.13ft3
52.00in
52.00in
-40.00°F
140.00°F
51515252SM
1ea
52.00in
52.00in
-40.00°F
140.00°F
Clear Vinyl
53135054L
1ea
15.20lb
0.74ft3
54.00in
4.00ga
50.00yd
53182554L
1ea
18.40lb
0.74ft3
54.00in
8.00ga
25.00yd
53201554L
1ea
19.95lb
0.74ft3
54.00in
12.00ga
15.00yd
Misc Vinyl
5675CL
1ea
2.00lb
0.10ft3
5610AP
12ea
9.25lb
0.77ft3
Product
Case
Length
Width
Height
Diameter
Min Temperature
Max Temperature
Gauge
Roll Length
Widest Diameter
Pack
Weight
Cube
Embrace
EMB5026RT830
1ea
1.00kg
243.84cm
76.20cm
76.20cm
-40.00°C
60.00°C
EMB5026AC830
1ea
1.00kg
243.84cm
76.20cm
76.20cm
-40.00°C
60.00°C
EMB5026RT630
1ea
1.00kg
182.88cm
76.20cm
76.20cm
-40.00°C
60.00°C
EMB5026AC630
1ea
1.00kg
182.88cm
76.20cm
76.20cm
-40.00°C
60.00°C
EMB5026R72
1ea
1.00kg
182.88cm
182.88cm
76.20cm
-40.00°C
60.00°C
EMB5026R24
1ea
1.00kg
60.96cm
60.96cm
76.20cm
-40.00°C
60.00°C
EMB5026HT30
1ea
1.00kg
76.20cm
76.20cm
76.20cm
-40.00°C
60.00°C
EMB5026TLC23
1ea
1.00kg
50.80cm
27.94cm
76.20cm
-40.00°C
60.00°C
EMB5026WC35
1ea
1.00kg
76.20cm
76.20cm
76.20cm
-40.00°C
60.00°C
EMB5026WC44
1ea
1.00kg
76.20cm
76.20cm
91.44cm
-40.00°C
60.00°C
EMB5026WC55
1ea
1.00kg
81.28cm
81.28cm
91.44cm
-40.00°C
60.00°C
EMB5026BS10
1ea
1.00kg
53.34cm
43.18cm
76.20cm
-40.00°C
60.00°C
EMB5026BS5
1ea
1.00kg
43.18cm
68.58cm
-40.00°C
60.00°C
27.94cm
EMB5026BS25
1ea
1.00kg
43.18cm
27.94cm
50.80cm
-40.00°C
60.00°C
EMB5026LTRC
1ea
1.00kg
60.96cm
60.96cm
106.68cm
-40.00°C
60.00°C
EMB5026TRC
1ea
1.00kg
76.20cm
76.20cm
76.20cm
-40.00°C
60.00°C
EMB5026TT27014
1ea
1.00kg
71.12cm
58.42cm
3.81cm
-40.00°C
60.00°C
Fabric Tablecloths
53785252SM
1ea
1.00kg
132.08cm
132.08cm
-40.00°C
60.00°C
537852AITM
1ea
274.32cm
132.08cm
-40.00°C
60.00°C
53785454SM
1ea
137.16cm
137.16cm
-40.00°C
60.00°C
537854AUTM
1ea
304.80cm
137.16cm
-40.00°C
60.00°C
53785858SM
1ea
1.15kg
147.32cm
147.32cm
-40.00°C
60.00°C
53787272SM
1ea
182.88cm
182.88cm
-40.00°C
60.00°C
537876RM
1ea
1.40kg
193.04cm
-40.00°C
60.00°C
537890RM
1ea
228.60cm
-40.00°C
60.00°C
53935252SM
1ea
1.00kg
132.08cm
132.08cm
-40.00°C
60.00°C
Fabric Skirting
5024CE29AF
1ea
2.80kg
0.53m3
396.24cm
-40.00°C
60.00°C
5024EG29AF
1ea
3.60kg
1.50m3
533.40cm
-40.00°C
60.00°C
5024FW29AF
1ea
4.20kg
1.50m3
640.08cm
-40.00°C
60.00°C
Skirting Accessories
5CC55PC-
12ea
1.75kg
2.54cm
5CC118MP-
12ea
0.30kg
1.91cm
5CC120MP-
12ea
0.30kg
1.91cm
5CC200PC-
12ea
0.25kg
6.35cm
5CCCCLIP-
12ea
0.35kg
2.54cm
5CCLCLIP-
12ea
0.40kg
2.54cm
Fabric Napkins
53781717NM
12ea
1.75kg
43.18cm
43.18cm
-40.00°C
60.00°C
53782020NM
12ea
1.75kg
50.80cm
50.80cm
-40.00°C
60.00°C
53771822NH
12ea
1.75kg
45.72cm
55.88cm
-40.00°C
60.00°C
53931717NM
12ea
1.75kg
43.18cm
43.18cm
-40.00°C
60.00°C
Vinyl Tablecloths
59035252SM
1ea
132.08cm
132.08cm
-40.00°C
60.00°C
59085252SM
1ea
3.00kg
132.08cm
132.08cm
-40.00°C
60.00°C
51515252SM
1ea
132.08cm
132.08cm
-40.00°C
60.00°C
Clear Vinyl
53135054L
1ea
15.20kg
0.74m3
137.16cm
4572.00cm
53182554L
1ea
18.40kg
0.74m3
137.16cm
2286.00cm
53201554L
1ea
19.95kg
0.74m3
137.16cm
1371.60cm
Misc Vinyl
5675CL
1ea
2.00kg
5610AP
12ea
9.25kg
0.77m3