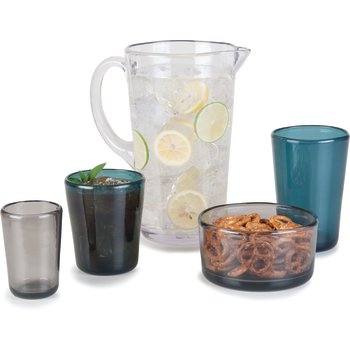 The look and feel of recycled glass drinkware.
Made of durable Tritan these pieces are workhorses and will serve you well for years to come.
Two-year warranty against breakage.
Durable Tritan material will not crack or develop craze lines.
The perfect solution for outdoor and poolside dining.
Two-year warranty.
Stain resistant.
Product
Description
Case
Pack
Weight
Cube
MIN5440
14 oz Double Old Fashioned
12ea
4.34lb
0.57ft³
MIN5441
6 oz Juice
12ea
2.60lb
0.28ft³
MIN5442
19 oz High Ball
12ea
5.27lb
0.71ft³
MIN5449
22 oz High Ball
12ea
5.27lb
0.71ft³
MIN5443
74 oz Pitcher
4ea
6.34lb
1.05ft³
MIN5444
5" Soup, Salad, Pasta Bowl
12ea
6.86lb
0.60ft³
MIN5446
10" Serving Bowl
4ea
8.95lb
1.34ft³
Product
Case
Length
Width
Height
Diameter
Capacity
Min Temperature
Max Temperature
Pack
Weight
Cube
MIN5440
12ea
4.34lb
0.57ft3
3.62in
3.62in
4.25in
3.62in
14.00fl oz
-40.00°F
212.00°F
MIN5441
12ea
2.60lb
0.28ft3
2.31in
2.31in
3.75in
2.31in
6.00fl oz
-40.00°F
212.00°F
MIN5442
12ea
5.27lb
0.71ft3
3.62in
3.62in
5.50in
3.62in
19.00fl oz
-40.00°F
212.00°F
MIN5449
12ea
5.27lb
0.71ft3
3.62in
3.62in
6.50in
22.00fl oz
-40.00°F
212.00°F
MIN5443
4ea
6.34lb
1.05ft3
8.62in
5.75in
9.50in
5.25in
74.00fl oz
-40.00°F
212.00°F
MIN5444
12ea
6.86lb
0.60ft3
3.00in
5.00in
22.00fl oz
-40.00°F
212.00°F
MIN5446
4ea
8.95lb
1.34ft3
4.50in
10.00in
5.00qt
-40.00°F
212.00°F
Product
Case
Length
Width
Height
Diameter
Capacity
Min Temperature
Max Temperature
Pack
Weight
Cube
MIN5440
12ea
4.34kg
0.57m3
9.21cm
9.21cm
10.79cm
9.21cm
0.41l
-40.00°C
100.00°C
MIN5441
12ea
2.60kg
5.87cm
5.87cm
9.53cm
5.87cm
0.18l
-40.00°C
100.00°C
MIN5442
12ea
5.27kg
0.71m3
9.21cm
9.21cm
13.97cm
9.21cm
0.56l
-40.00°C
100.00°C
MIN5449
12ea
5.27kg
0.71m3
9.19cm
9.19cm
16.51cm
0.65l
-40.00°C
100.00°C
MIN5443
4ea
6.34kg
1.05m3
21.91cm
14.61cm
24.13cm
13.34cm
2.19l
-40.00°C
100.00°C
MIN5444
12ea
6.86kg
0.60m3
7.62cm
12.70cm
0.65l
-40.00°C
100.00°C
MIN5446
4ea
8.95kg
1.34m3
11.43cm
25.40cm
4.73l
-40.00°C
100.00°C