Microwaveable Round Bowls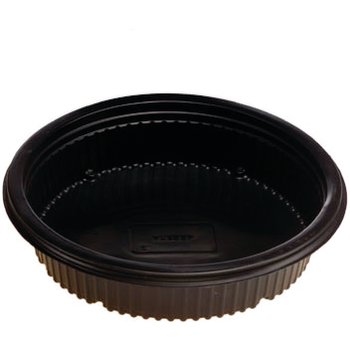 The round design of the Proex Microwavable Entrée container is the perfect shape to make an inviting food presentation.Virtually unlimited in its applications, these attractive black polypropylene containers can not only be chilled or frozen, but reheated to withstand food temperatures up to 280 Degrees.
Great for Salads, Pasta, Pizza & Much more
Sure-Seal lids are designed to stack securely on display
Choose flat lids or dome lids with easy-opening tabs
Variety of shapes and sizes for individual servings or family portions
Microwaveable Round Bowls
Product
Description
Case
Case
Diameter
Capacity
Depth
List Price1
Pack
Weight
Cube
Weight
Cube
DXMW5401PBLK
Microwaveable 7" Round Bowl 20oz.
1cs
14.75lb
2.51ft³
6.69kg
0.07m³
7.25in
18.41cm
20.00fl oz
0.59l
1.62in
4.13cm
$

72.60

cs
DXL5400PCLR
Flat Lid for 7" Round Bowl
1cs
11.26lb
1.88ft³
5.11kg
0.05m³
$

68.36

cs
DXL5400PDCLR
Dome Lid for 7" Round Bowl
1cs
11.57lb
2.31ft³
5.25kg
0.07m³
$

68.36

cs
Carlisle suggested domestic U.S. list prices shown, dealer prices vary.