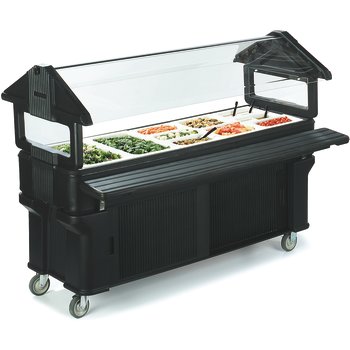 Easy to assemble
Add tray slides and end shelves without removing legs
Wider sneeze guard and end posts with acrylic shields provide more complete coverage
Two‑piece acrylic shields allow for easy assembly
NSF Listed bars are filled with thick polyurethane foam to hold ice for hours and help keep your food at the correct serving temperatures
Textured finish resists scratching and is simple to clean
Food bars are molded from durable polyethylene
Faucet-type drain plug facilitates water removal
Sturdy, recessed 5" non-marking swivel casters, two with brakes; optional tray slides and end shelves
Product
Description
Case
Case
Length
Width
Height
Overall Height
Overall Length
Overall Width
Total Width
List Price1
Pack
Weight
Cube
Weight
Cube
6605
4 ft Six★Star™ Portable w/Legs only
1ea
120.00lb
17.32ft³
54.43kg
0.49m³
51.00in
129.54cm
45.25in
114.94cm
23.68in
60.15cm
38.00in
96.52cm
$

1931.56

ea
6606
6 ft Six★Star™ Portable w/Legs only
1ea
142.00lb
27.28ft³
64.41kg
0.77m³
51.00in
129.54cm
72.12in
183.18cm
23.68in
60.15cm
38.00in
96.52cm
$

2167.42

ea
6611
6 ft Six★Star™ Portable w/Storage & Legs
1ea
170.00lb
61.68ft³
77.11kg
1.75m³
51.00in
129.54cm
72.12in
183.18cm
23.68in
60.15cm
38.00in
96.52cm
$

2772.22

ea
6620
4 ft Six★Star™ Tray Slide
1ea
14.10lb
0.74ft³
6.40kg
0.02m³
44.00in
111.76cm
9.00in
22.86cm
2.00in
5.08cm
$

460.44

ea
6621
6 ft Six★Star™ Tray Slide
1ea
14.75lb
1.13ft³
6.69kg
0.03m³
68.75in
174.62cm
8.50in
21.59cm
1.75in
4.45cm
$

518.07

ea
6625
Six★Star™ End Shelf
1ea
11.75lb
0.66ft³
5.33kg
0.02m³
20.62in
52.37cm
15.87in
40.31cm
1.75in
4.45cm
$

445.56

ea
6608
6 ft Six★Star™ Youth w/Legs only
1ea
135.00lb
27.28ft³
61.23kg
0.77m³
45.50in
115.57cm
72.12in
183.18cm
23.68in
60.15cm
38.00in
96.52cm
$

2253.82

ea
6600
4 ft Six★Star™ Tabletop
1ea
63.00lb
12.16ft³
28.58kg
0.34m³
45.25in
114.94cm
23.68in
60.15cm
25.25in
64.14cm
$

1258.38

ea
6601
6 ft Six★Star™ Tabletop
1ea
92.00lb
18.01ft³
41.73kg
0.51m³
72.12in
183.18cm
23.68in
60.15cm
25.25in
64.14cm
$

1461.80

ea
Six★Star™ Portable Food Bars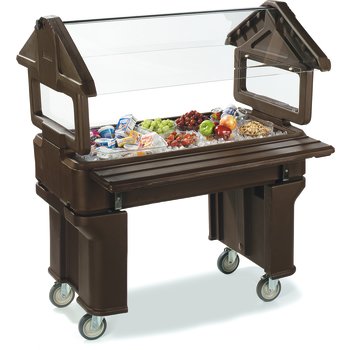 Choose enclosed storage unit (6 ft only) with sliding doors or unit with legs only.
Six★Star™ Youth Bar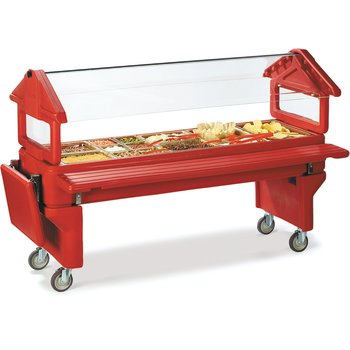 Low 29" serving height is designed for young people to conveniently reach all condiments.
Six★Star™ Tabletop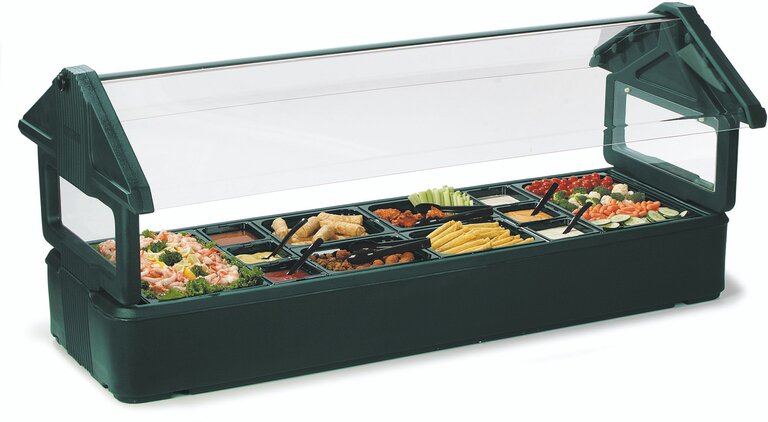 Threaded drain plug underneath ice pan for easy water removal.
Carlisle suggested domestic U.S. list prices shown, dealer prices vary.