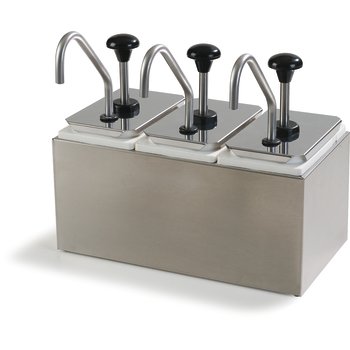 Carlisle topping rails are perfect for dispensing condiments, dressings, and sauces.
Rails are made of long lasting stainless steel for years of service and are available in a variety of sizes
Removable pumps and jars are included
Rubber feet protect counters and prevent slipping
Jars remove easily for cleaning or refilling
Stainless Steel Pump Topping Rails
Patented pump* is simple to dismantle for easy cleaning
No tools necessary
Fewer moving parts than ordinary stainless pumps
Dispenses 1-1/4 ounces per stroke
Comes with portion control clips for 1 oz & 1/2 oz portions
Standard Pump Topping Rails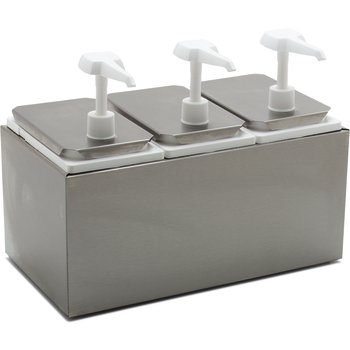 Economical Standard Plastic Pump (CM1035) can be set to dispense either 1/2 oz or 1 oz portions.
Standard Pump
Product
Description
Case
Case
Length
Width
Height
List Price1
Pack
Weight
Cube
Weight
Cube
38502
Topping Rail
1ea
8.05lb
0.77ft³
3.65kg
0.02m³
9.63in
24.46cm
7.75in
19.68cm
10.75in
27.30cm
$

245.31

ea
38503
Topping Rail
1ea
7.50lb
1.14ft³
3.40kg
0.03m³
14.44in
36.68cm
7.75in
19.68cm
12.50in
31.75cm
$

371.51

ea
38504
Topping Rail
1ea
9.65lb
1.65ft³
4.38kg
0.05m³
19.25in
48.90cm
7.75in
19.68cm
12.50in
31.75cm
$

455.64

ea
Fixed Nozzle Topping Rails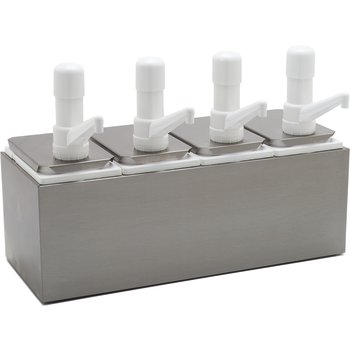 Perfect for multiple applications such as self-service area or kitchen
Clean looking flow-back design prevents messy drips
Spout & nozzle don't move while pumping
Dispenses 1 oz per stroke.
Maxi Pump Topping Rails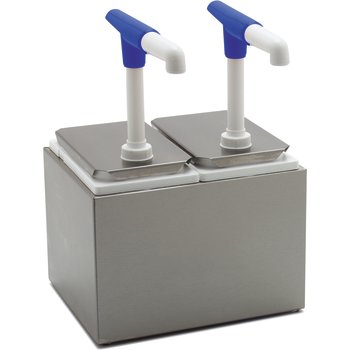 Maxi Pump handles thick and chunky condiments such as tartar sauce and salsa. Dispenses 1-ounce portion per stroke. Includes "anti-drip" nozzle restrictors to help prevent messy drips.
Carlisle suggested domestic U.S. list prices shown, dealer prices vary.