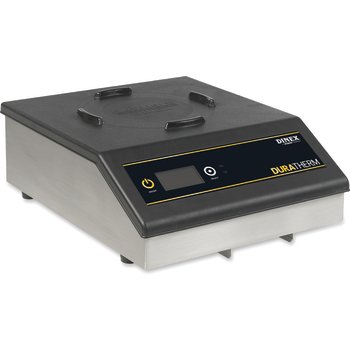 Your operation will always be under control.
DuraTherm induction unit offer improved holding times, which provide superior operational benefits at a lower total cost of ownership. Efficient capabilities, smart technology and a user-friendly interface make this induction system unmatched in the industry.
Designed With The End-User In Mind – We have worked directly with end-users to develop the most user‑friendly and easy-to-use induction solution.
Smart Technology – Embedded microchip provides proximity detection and individual identification to ensure consistent heat without overheating.
Longer temperature holding
Clear instructions located on the charger
Lightest & smallest induction unit available
Cool-to-the-touch bases
Fully watertight
NSF Listed
We do not accept returns on any Dinex equipment or Dinex custom products. Please contact Customer Service if there are any issues with your order
Product
Description
Pack Size
Case
Pack
Weight
Cube
DuraTherm Induction Charger
DX2011208
1ea
29.00lb
1.15ft³
Induction Bases
DX14110
Base for DuraTherm Induction Charger
12ea
1cs
18.40lb
0.79ft³
Induction Charger Table
DXICTABLE
Table for Induction Charger (Stationary with Leveling Feet)
1ea
130.00lb
12.55ft³
DXICTABLEM
Table for Induction Charger (Mobile with Locking Casters)
1ea
210.00lb
12.92ft³
Induction Charger Cabinet/Stand
DXIQTEC
Cabinet/Stand (Enclosed with Locking Door)
1ea
88.00lb
6.71ft³
Product
Pack Size
Case
Length
Width
Height
Depth
Pack
Weight
Cube
DuraTherm Induction Charger
DX2011208
1ea
29.00lb
1.15ft3
Induction Bases
DX14110
12ea
1cs
18.40lb
0.79ft3
15.25in
18.30in
7.00in
Induction Charger Table
DXICTABLE
1ea
130.00lb
12.55ft3
30.00in
12.00in
24.00in
DXICTABLEM
1ea
210.00lb
12.92ft3
30.00in
30.12in
24.00in
Induction Charger Cabinet/Stand
DXIQTEC
1ea
88.00lb
6.71ft3
21.75in
26.00in
20.50in
Product
Pack Size
Case
Length
Width
Height
Depth
Pack
Weight
Cube
DuraTherm Induction Charger
DX2011208
1ea
29.00kg
1.15m3
Induction Bases
DX14110
12ea
1cs
18.40kg
0.79m3
38.73cm
46.48cm
17.78cm
Induction Charger Table
DXICTABLE
1ea
130.00kg
12.55m3
76.20cm
30.48cm
60.96cm
DXICTABLEM
1ea
210.00kg
12.92m3
76.20cm
76.50cm
60.96cm
Induction Charger Cabinet/Stand
DXIQTEC
1ea
88.00kg
6.71m3
55.24cm
66.04cm
52.07cm