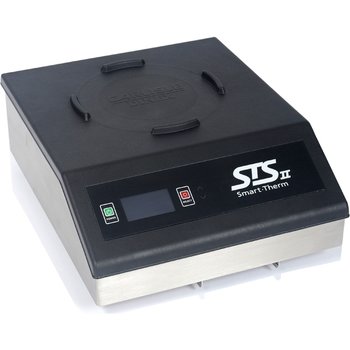 Dinex introduces the newest generation of induction heating systems. The Smart•Therm is the most innovative system for today's demanding foodservice traylines and room service operations.
Space efficient, countertop design with stainless steel housing, heavy duty electronic components and composite polymer material top
Engineered for use in commercial kitchens
User-friendly LCD display and control panel for ease of use and automatic power control
Uses the interactive DX821 Series base from Dinex
Senses base automatically and gives the correct amount of heat to allow consistent temperature every time
Microprocessor monitors charging cycle time with base
Automatic shut-off feature prohibits overheating
Boost feature allows Dinex base to be preheated and then reheated during delays in trayline operation
Easy-to-clean composite top surface
Single unit works on all 208v, 220v and 240v systems
Base cycle time ranges from 14 to 19 seconds depending on voltage supply
NSF Listed
We do not accept returns on any Dinex equipment or Dinex custom products. Please contact Customer Service if there are any issues with your order
Product
Description
Pack Size
Case
Case
Length
Width
Height
Diameter
Depth
List Price1
Pack
Weight
Cube
Weight
Cube
Smart•Therm Induction Charger
DX1011120RS
Smart•Therm Induction Charger
1ea
23.00lb
2.33ft³
10.43kg
0.07m³
15.26in
38.76cm
7.01in
17.81cm
18.30in
46.48cm
$

9238.00

ea
DX811220
STS II® Induction Charger
1ea
26.00lb
1.13ft³
11.79kg
0.03m³
18.30in
46.48cm
15.26in
38.76cm
7.01in
17.81cm
$

12094.00

ea
DX811240
STS II Induction Charger
1ea
23.00lb
1.21ft³
10.43kg
0.03m³
13.23in
33.60cm
9.63in
24.46cm
15.30in
38.86cm
$

12094.00

ea
Induction Bases
DX8210
Base for STSII & Turbo•Temp Induction Charger
12ea
1cs
18.40lb
0.79ft³
8.35kg
0.02m³
1.63in
4.14cm
9.75in
24.77cm
$

1478.00

cs
Induction Charger Table
DXICTABLE
Table for Induction Charger (Stationary with Leveling Feet)
1ea
130.00lb
12.55ft³
58.97kg
0.36m³
30.00in
76.20cm
12.00in
30.48cm
24.00in
60.96cm
$

2048.00

ea
DXICTABLEM
Table for Induction Charger (Mobile with Locking Casters)
1ea
210.00lb
12.92ft³
95.25kg
0.37m³
30.00in
76.20cm
30.12in
76.50cm
24.00in
60.96cm
$

2366.00

ea
Induction Charger Cabinet/Stand
DXIQTEC
Cabinet/Stand (Enclosed with Locking Door)
1ea
88.00lb
6.71ft³
39.92kg
0.19m³
21.75in
55.24cm
26.00in
66.04cm
20.50in
52.07cm
$

1556.00

ea
Carlisle suggested domestic U.S. list prices shown, dealer prices vary.