4156809 - Spectrum® 24" Double Foam Rubber Floor Squeegee 24" - Green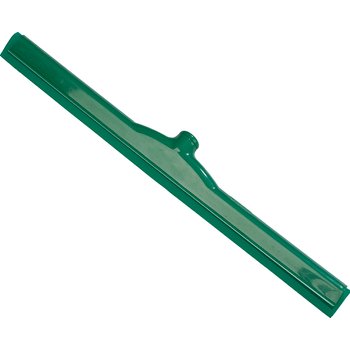 View/Download Pictures
Details
Item #

4156809

Product #

41568

Color

09 - Green
List Price

$

36.51

ea

Case Pack

6 ea

Each UPC

085404138207

Case UPC

085404937589
Invoice Description

24" PLASTIC SQUEEGEE GREEN
Brand
Key 15 Brushes

Stock It.
This symbol designates our top selling & readily available items.

Search "Stock It" for a complete listing of Carlisle's Stock It products.
Features
Sparta® Spectrum® Hygienic All Plastic Double Foam Squeegees are easy to sanitize
Hygienic squeegees available in five colors for use with HACCP compliance programs
Integrated blade eliminates seams and crevices, reducing places for bacteria to grow
Will not rust, and are extremely durable
Frame handle is threaded for secure use
Tech Specs
US
Metric
Length
24.00in
60.96cm
Material
Foam Rubber
Country of Origin
China
Harmonized Code
960390.8050
Case Weight
5.72lb
2.59kg
Case Cube
0.87ft3
0.02m3
Case Length
25.00in
63.50cm
Case Width
10.20in
25.91cm
Case Height
5.90in
14.99cm
Pallet Case Qty
72
Pallet Tier
8
Pallet High
9
Related Products
Product
Description
Case
Case
Length
Diameter
List Price1
Pack
Weight
Cube
Weight
Cube
Recommended Handles
40225
60" Fiberglass Handle with Self-Locking Flex-Tip 60" Long/1" D
12ea
13.00lb
0.80ft³
5.90kg
0.02m³
60.00in
152.40cm
1.00in
2.54cm
$

21.40

ea
Alternate Recommended Handles
40271
Flo-Pac® 60" Threaded Wood Handle 60" Long / 15/16" D
12ea
13.36lb
0.49ft³
6.06kg
0.01m³
60.00in
152.40cm
0.94in
2.39cm
$

6.49

ea
45267
Flo-Pac® 60" Metal Tip Threaded Wood Handle 60" Long /15/16" D
12ea
13.75lb
0.48ft³
6.24kg
0.01m³
60.00in
152.40cm
0.94in
2.39cm
$

7.51

ea
Carlisle suggested domestic U.S. list prices shown, dealer prices vary.