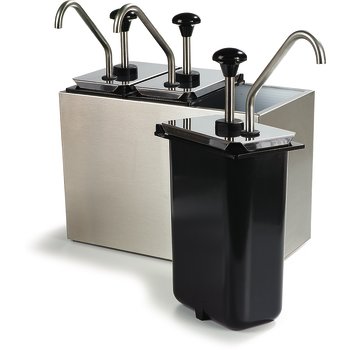 Carlisle topping rails are perfect for dispensing condiments, dressings, and sauces.
Rails are made of long lasting stainless steel for years of service and are available in a variety of sizes
Removable pumps and 2-1/2 qt. fountain jars are included
Rubber feet protect counters and prevent slipping
Jars remove easily for cleaning and refilling
Coldmaster® Fountain Jars & Topping Rails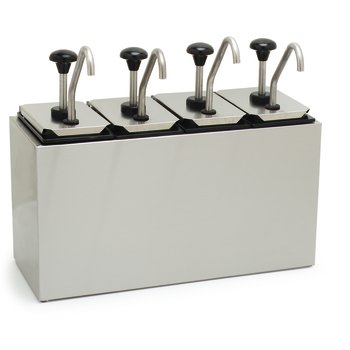 Coldmaster® technology keeps condiments at or below the recommended SERVESAFE® temperature of 40° F for eight hours or more without ice, electricity, or having to constantly replace ice packs.
Topping Rails pair our unique patented** Stainless Steel Pumps with Coldmaster® Fountain Jars
Units are made safe, sleek & rugged
Convenient dispensing for either front or back-of-the-house
Same durable stainless steel construction as our other topping rails
Rubber feet protect counters ServeSafe® is a registered trademark of NRA
Stainless Steel Pump
Product
Description
Case
Case
Capacity
Depth
Inside Length
Inside Width
Overall Height
Overall Length
Overall Width
Under Lip Length
Under Lip Width
List Price1
Pack
Weight
Cube
Weight
Cube
CM1200
71 oz Coldmaster® Fountain Jar only
1ea
3.41lb
0.24ft³
1.55kg
0.01m³
71.00fl oz
2.10l
9.88in
25.10cm
5.44in
13.82cm
2.75in
6.99cm
10.38in
26.37cm
7.50in
19.05cm
4.50in
11.43cm
6.50in
16.51cm
3.25in
8.26cm
$

142.07

ea
Insulated Topping Rails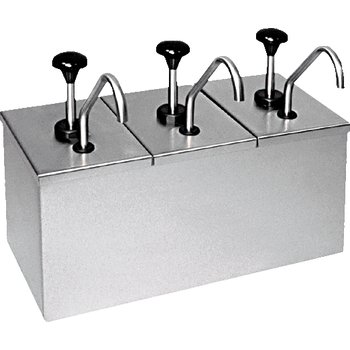 Insulated units combine with reusable ice packs to keep condiments chilled for hours. Versatile & rugged stainless steel bodies with separate stainless steel covers for each pump make refilling and cleaning easy.
Includes 2 qt containers with snap-on lids for overnight storage
Rubber feet prevent slipping and protect counter tops
Comes with set of self-adhesive labels for most popular condiments
Additional reusable ice packs sold separately
Stainless Steel Topping Rails come with patented* Stainless Steel Pump
Dispenses 1-1/4 oz per stroke
Standard Topping Rails Dispensers come with with economical Standard Pump (CM1035)
Product
Description
Case
Case
Length
Width
Height
List Price1
Pack
Weight
Cube
Weight
Cube
Stainless Steel Pump
386230IB
Insulated Topping Rail
1ea
14.95lb
1.50ft³
6.78kg
0.04m³
15.88in
40.34cm
7.50in
19.05cm
13.00in
33.02cm
$

1352.38

ea
Replacement Parts
38600IP
Large Freezable Ice Pack
1ea
2.15lb
0.05ft³
0.98kg
7.00in
17.78cm
1.63in
4.14cm
6.75in
17.14cm
$

32.04

ea
Standard Pump
38623IB
Insulated Topping Rail
1ea
12.10lb
0.90ft³
5.49kg
0.03m³
15.88in
40.34cm
7.38in
18.75cm
11.00in
27.94cm
$

378.98

ea
Replacement Parts
38600IP
Large Freezable Ice Pack
1ea
2.15lb
0.05ft³
0.98kg
7.00in
17.78cm
1.63in
4.14cm
6.75in
17.14cm
$

32.04

ea
Carlisle suggested domestic U.S. list prices shown, dealer prices vary.