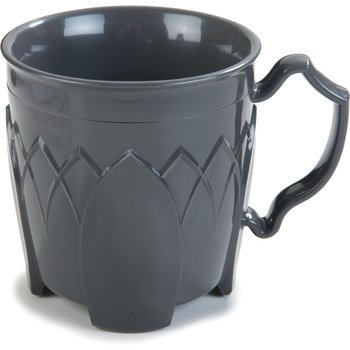 View/Download Pictures
Details
Item #

DX500044

Product #

DX5000

Color

44 - Graphite Grey
Case Pack

1 cs

Inner Pack Size

48 ea

Case GTIN

10753806044019
Invoice Description

FENWICK 8OZ MUG GRAPHITE GRAY
Brand
This product was made in the USA.
Features
For hot or cold beverages
Dinex insulated ware features a double wall, ozone-safe insulation
Heavy-duty handle allows secure, three finger holding with thumb rest
Available in five popular colors including Sage, Latte,Onyx, Midnight Blue and Cranberry
Not recommended for microwave; does not stack
We do not accept returns on any Dinex equipment or Dinex custom products. Please contact your local Dinex rep to ensure order accuracy prior to ordering.
Tech Specs
US
Metric
Height
3.50in
8.89cm
Diameter
3.50in
8.89cm
Capacity
8.00fl oz
0.24l
Material
Urethane Foam
Material - Shell
Polypropylene (PP)
Country of Origin

United States

Freight Class
125
Case Weight
11.90lb
5.40kg
Case Cube
1.55ft3
0.04m3
Case Length
20.50in
52.07cm
Case Width
14.50in
36.83cm
Case Height
9.00in
22.86cm
Pallet Case Qty
15
Pallet Tier
3
Pallet High
5
Related Products
Product
Description
Pack Size
Case
Pack
Weight
Cube
Lids
DX50008714
Fenwick Translucent Lid fits Fenwick DX5000 Mug & DX5200 Bowl (1500/cs)
1500ea
1cs
7.50lb
1.89ft³
DX50008775
Fenwick EZ Sip Lid (1000/cs)
1000ea
1cs
7.50lb
1.75ft³
Related Products
DXFT6
Dinex® Tumbler Fenwick 6 oz. (72/cs)
72ea
1cs
10.00lb
0.85ft³
Related Products
Product
Pack Size
Case
Height
Diameter
Min Temperature
Max Temperature
Flush Fill Capacity
Pack
Weight
Cube
Lids
DX50008714
1500ea
1cs
7.50lb
1.89ft3
3.50in
30.00°F
190.00°F
DX50008775
1000ea
1cs
7.50lb
1.75ft3
3.50in
-40.00°F
212.00°F
Related Products
DXFT6
72ea
1cs
10.00lb
0.85ft3
3.00in
2.50in
180.00°F
6.70fl oz
Related Products
Product
Pack Size
Case
Height
Diameter
Min Temperature
Max Temperature
Flush Fill Capacity
Pack
Weight
Cube
Lids
DX50008714
1500ea
1cs
7.50kg
1.89m3
8.89cm
-1.11°C
87.78°C
DX50008775
1000ea
1cs
7.50kg
1.75m3
8.89cm
-40.00°C
100.00°C
Related Products
DXFT6
72ea
1cs
10.00kg
0.85m3
7.62cm
6.35cm
82.22°C
0.20l