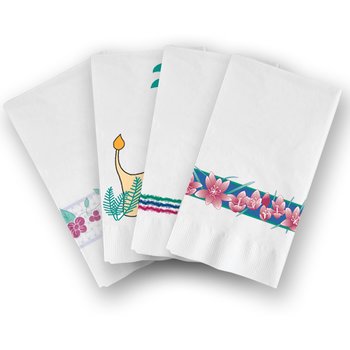 The complete range of Dinex facial quality napkins lets you coordinate a colorful and attractive traytop display for every setting.
Choose from a rich selection of styles, colors and textures to add a special touch to your dining service
Dinex decorator 2 ply dinner napkins are a full 15˝ x 17˝ with 1/8 fold and coin edge embossed. They feature superior ˝wet strength˝ and are design coordinated with the complete Dinex tray-top ensemble.
We do not accept returns on any Dinex equipment or Dinex custom products. Please contact your local Dinex rep to ensure order accuracy prior to ordering.
Product
Description
Pack Size
Case
Pack
Weight
Cube
Dinner Napkin
DX6243202836
Freesia, Recycled
1000ea
1cs
13.50lb
1.22ft³
Pocketfold Napkins
DX63501113
Filigree, Recycled
1200ea
1cs
18.00lb
1.75ft³
DX6999PF02
Solid Color, Recycled (White)
1200ea
1cs
18.00lb
1.75ft³
DX6999PF01
Solid Color (Sage)
2000ea
1cs
18.00lb
1.75ft³
Trimline Napkins
DXCTCADNS10
Napkin with Sleeve
300ea
1cs
15.92lb
1.76ft³
Product
Pack Size
Case
Length
Width
Height
Weight
Min Temperature
Max Temperature
Pack
Weight
Cube
Dinner Napkin
DX6243202836
1000ea
1cs
13.50lb
1.22ft3
17.00in
15.00in
0.30in
0.01lb
-40.00°F
400.00°F
Pocketfold Napkins
DX63501113
1200ea
1cs
18.00lb
1.75ft3
17.00in
17.00in
0.30in
0.01lb
-40.00°F
400.00°F
DX6999PF02
1200ea
1cs
18.00lb
1.75ft3
17.00in
17.00in
0.30in
0.01lb
-40.00°F
400.00°F
DX6999PF01
2000ea
1cs
18.00lb
1.75ft3
17.00in
17.00in
0.30in
0.01lb
-40.00°F
400.00°F
Trimline Napkins
DXCTCADNS10
300ea
1cs
15.92lb
1.76ft3
16.00in
16.00in
0.30in
0.05lb
Product
Pack Size
Case
Length
Width
Height
Weight
Min Temperature
Max Temperature
Pack
Weight
Cube
Dinner Napkin
DX6243202836
1000ea
1cs
13.50kg
1.22m3
43.18cm
38.10cm
0.76cm
0.01kg
-40.00°C
204.44°C
Pocketfold Napkins
DX63501113
1200ea
1cs
18.00kg
1.75m3
43.18cm
43.18cm
0.76cm
0.01kg
-40.00°C
204.44°C
DX6999PF02
1200ea
1cs
18.00kg
1.75m3
43.18cm
43.18cm
0.76cm
0.01kg
-40.00°C
204.44°C
DX6999PF01
2000ea
1cs
18.00kg
1.75m3
43.18cm
43.18cm
0.76cm
0.00kg
-40.00°C
204.44°C
Trimline Napkins
DXCTCADNS10
300ea
1cs
15.92kg
1.76m3
40.64cm
40.64cm
0.76cm
0.02kg