Unique Plating for Exceptional Presentations
The Halcyon serving ware collection offers perfect plating for a variety of cuisines and food styles. Featuring durable bone‑white melamine, Halcyon provides artful plating choices for sushi, salads, pasta, appetizers and more. The collection also includes an assortment of dip bowls, flight trays and spoons. Take your dining and presentation to a new level.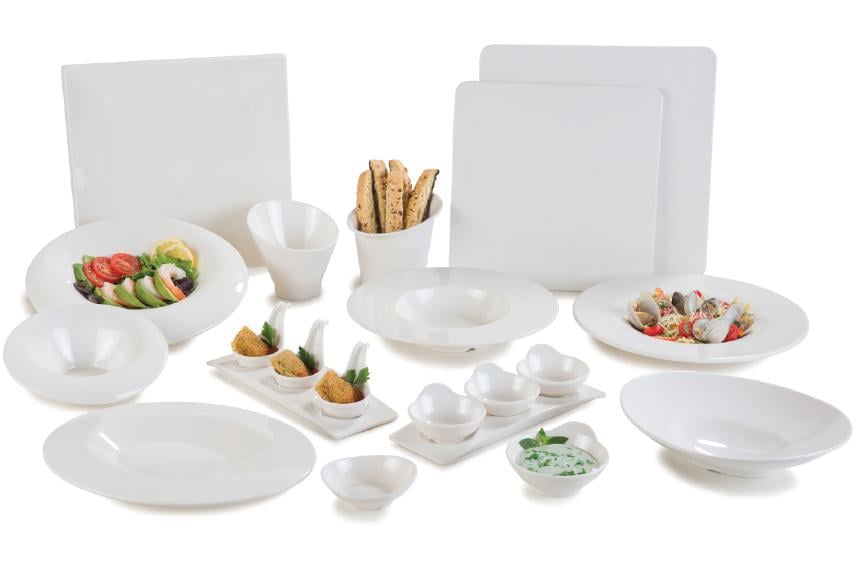 Benefits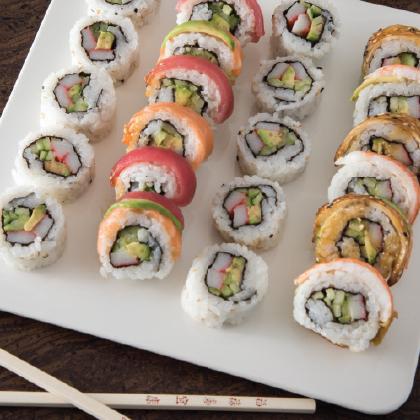 Unique Design
Enhance the appearance of plated foods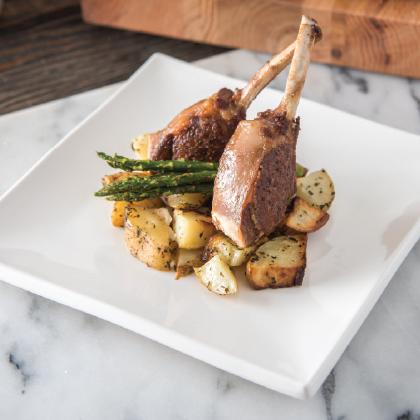 Durable
Made of sturdy, heavy-weight melamine
Stain Resistant
Resists oils and staining
26 Shapes & Sizes
Wide variety of plates, platters, serving cups and bowls
Products
Product
Description
Case
Pack
Weight
Cube
HAL02
Halcyon Flair Rim Appetizer Cup 18 oz
HAL03
Halcyon Pasta Bowl 16 oz
HAL04
Halcyon Pasta Bowl 6 oz
HAL05
Halcyon Angled Appetizer Cup 11 oz
HAL06
Halcyon Angled Appetizer Cup 16 oz
HAL09
Halcyon Square Rim Plate 9"
HAL10
Halcyon Square Rim Plate 10.5"
HAL11
Halcyon Square Rim Plate 12"
HAL13
Halcyon Lily Bowl 3 oz
HAL14
Halcyon Lily Bowl 8 oz
HAL15
Halcyon Lily Bowl 10 oz
HAL16
Halcyon Serving Platter 10"
HAL17
Halcyon Serving Platter 11.5"
HAL18
Halcyon Serving Platter 13"
HAL20
Halcyon Sauce Bowl 2 oz
HAL21
Halcyon Sauce Bowl 2 oz
HAL22
Halcyon Top Hat Pasta Bowl 8 oz
HAL23
Halcyon Low Bowl 5 oz
HAL24
Halcyon Serving Plate 10.4" x 6.1"
HAL26
Halcyon Sleigh Tray 13" x 6.5"
HAL27
Halcyon Pho Spoon 0.25 oz
HAL28
Halcyon Broth Spoon 0.25 oz
HAL31
Halcyon Spoon Bowl 1 oz
HAL32
Halcyon Handled Bowl 2 oz
HAL01
Halcyon Flair Rim Appetizer Cup 12 oz
HAL12
Halcyon 3-Compartment Tray 3.75" x 11"
Product
Case
Length
Width
Height
Diameter
Capacity
Max Temperature
Cut Out Diameter
Flush Fill Capacity
Practical Fill Capacity
Pack
Weight
Cube
HAL02
4.25in
4.87in
212.00°F
14.00fl oz
13.00fl oz
HAL03
8.54in
10.10in
2.45in
212.00°F
28.50fl oz
16.00fl oz
HAL04
1.50in
12.00in
212.00°F
12.00fl oz
6.00fl oz
HAL05
5.05in
5.12in
4.57in
5.25in
212.00°F
14.00fl oz
10.00fl oz
HAL06
5.90in
5.71in
5.23in
5.79in
212.00°F
20.00fl oz
16.00fl oz
HAL09
9.06in
9.06in
0.80in
212.00°F
HAL10
10.83in
10.83in
1.00in
212.00°F
HAL11
12.00in
12.00in
1.10in
212.00°F
HAL13
6.90in
7.70in
3.15in
7.60in
212.00°F
4.00fl oz
2.50fl oz
HAL14
8.66in
10.45in
4.20in
9.38in
212.00°F
11.00fl oz
8.00fl oz
HAL15
9.50in
11.50in
4.50in
11.00in
10.00fl oz
212.00°F
12.00fl oz
10.00fl oz
HAL16
9.96in
9.96in
0.40in
212.00°F
HAL17
11.50in
11.50in
0.40in
212.00°F
HAL18
13.00in
13.00in
0.50in
212.00°F
HAL20
3.75in
4.02in
1.30in
4.00in
212.00°F
3.85fl oz
2.00fl oz
HAL21
4.40in
4.88in
1.56in
4.25in
212.00°F
6.00fl oz
4.00fl oz
HAL22
1.95in
10.95in
212.00°F
17.00fl oz
8.00fl oz
HAL23
9.25in
12.00in
1.00in
212.00°F
12.00fl oz
5.00fl oz
HAL24
6.10in
10.45in
1.22in
212.00°F
HAL26
6.70in
13.00in
0.80in
212.00°F
HAL27
1.70in
5.12in
1.99in
1.50in
212.00°F
0.50fl oz
0.25fl oz
HAL28
5.62in
1.57in
2.25in
1.50in
212.00°F
0.50fl oz
0.25fl oz
HAL31
2.48in
4.33in
2.60in
2.50in
212.00°F
1.50fl oz
1.00fl oz
HAL32
1.70in
3.54in
212.00°F
4.00fl oz
2.00fl oz
HAL01
4.92in
4.80in
4.25in
5.25in
212.00°F
16.00fl oz
12.00fl oz
HAL12
3.75in
11.00in
0.70in
212.00°F
2.56in
4.00fl oz
3.00fl oz
Product
Case
Length
Width
Height
Diameter
Capacity
Max Temperature
Cut Out Diameter
Flush Fill Capacity
Practical Fill Capacity
Pack
Weight
Cube
HAL02
10.79cm
12.37cm
100.00°C
0.41l
0.38l
HAL03
21.69cm
25.65cm
6.22cm
100.00°C
0.84l
0.47l
HAL04
3.81cm
30.48cm
100.00°C
0.35l
0.18l
HAL05
12.83cm
13.00cm
11.61cm
13.34cm
100.00°C
0.41l
0.30l
HAL06
14.99cm
14.50cm
13.28cm
14.71cm
100.00°C
0.59l
0.47l
HAL09
23.01cm
23.01cm
2.03cm
100.00°C
HAL10
27.51cm
27.51cm
2.54cm
100.00°C
HAL11
30.48cm
30.48cm
2.79cm
100.00°C
HAL13
17.53cm
19.56cm
8.00cm
19.30cm
100.00°C
0.12l
0.07l
HAL14
22.00cm
26.54cm
10.67cm
23.83cm
100.00°C
0.33l
0.24l
HAL15
24.13cm
29.21cm
11.43cm
27.94cm
0.30l
100.00°C
0.35l
0.30l
HAL16
25.30cm
25.30cm
1.02cm
100.00°C
HAL17
29.21cm
29.21cm
1.02cm
100.00°C
HAL18
33.02cm
33.02cm
1.27cm
100.00°C
HAL20
9.53cm
10.21cm
3.30cm
10.16cm
100.00°C
0.11l
0.06l
HAL21
11.18cm
12.40cm
3.96cm
10.79cm
100.00°C
0.18l
0.12l
HAL22
4.95cm
27.81cm
100.00°C
0.50l
0.24l
HAL23
23.50cm
30.48cm
2.54cm
100.00°C
0.35l
0.15l
HAL24
15.49cm
26.54cm
3.10cm
100.00°C
HAL26
17.02cm
33.02cm
2.03cm
100.00°C
HAL27
4.32cm
13.02cm
5.05cm
3.81cm
100.00°C
0.01l
0.01l
HAL28
14.29cm
3.99cm
5.71cm
3.81cm
100.00°C
0.01l
0.01l
HAL31
6.30cm
11.00cm
6.60cm
6.35cm
100.00°C
0.04l
0.03l
HAL32
4.32cm
8.99cm
100.00°C
0.12l
0.06l
HAL01
12.50cm
12.19cm
10.79cm
13.34cm
100.00°C
0.47l
0.35l
HAL12
9.53cm
27.94cm
1.78cm
100.00°C
6.50cm
0.12l
0.09l