Unique & Versatile
Create a unique and elegant buffet or deli setting with Terra. Made of durable Tritan™ plastic, this collection is virtually unbreakable and designed to withstand the demands of daily use. This versatile line includes everything from larger serving bowls and platters to individual size bowls and plates.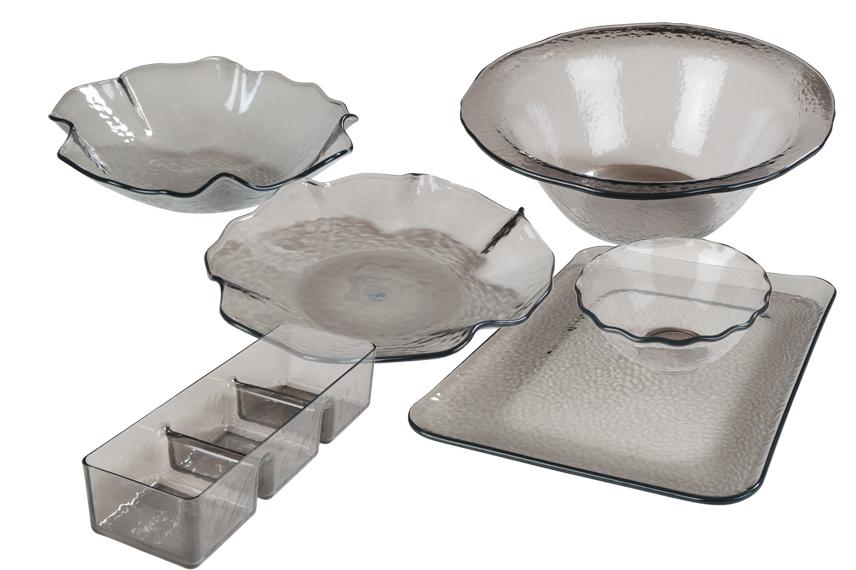 Benefits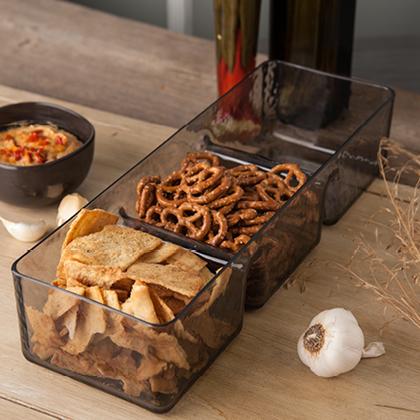 Durability
Made of super durable break and craze-resistant Tritan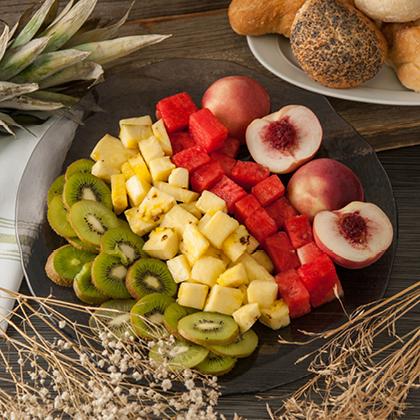 Design
Premium, organic feel that has the look of glass without the risk of breakage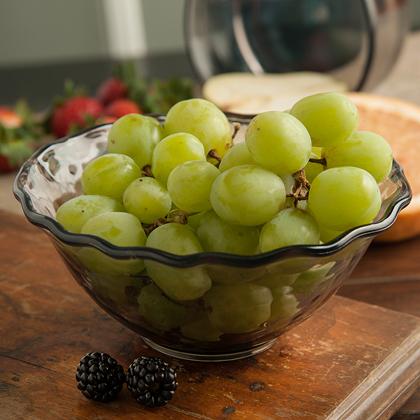 Stain-Resistant
Resists oils and discoloring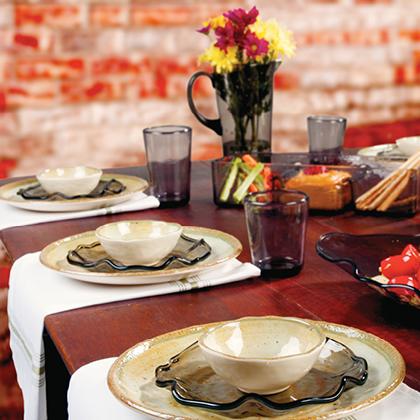 Complimentary
Clear smoke color can be used to complement a variety of colors including trendy metallics
Products
Product
Description
Case
Pack
Weight
Cube
TRA06
Terra Round Tray 14.5"
TRA01
Terra Rectangular Platter 19.75" x 14.75"
TRA02
Terra Square Bowl 108 oz
TRA03
Terra Rectangular Platter 12.625" x 8.5"
TRA04
Terra Ruffle Bowl 37 oz
TRA05
Terra Ruffle Bowl 28 oz
TRA07
Terra Three Section Server 15" x 5"
TRA08
Terra Dinner Plate 11"
TRA09
Terra Salad Plate 8"
TRA10
Terra Oval Platter 19.5" x 11"
TRA11
Terra Large Bowl 15.25"
TRA12
Terra Ruffle Platter 13"
Product
Case
Length
Width
Height
Diameter
Min Temperature
Max Temperature
Base Length
Base Width
Diameter Max
Diameter Minimum
Flush Fill Capacity
Height At Highest Point
Practical Fill Capacity
Pack
Weight
Cube
TRA06
1.00in
14.50in
-40.00°F
212.00°F
TRA01
19.75in
14.75in
1.00in
-40.00°F
212.00°F
TRA02
12.50in
12.38in
2.75in
-40.00°F
212.00°F
7.50in
7.38in
4.00qt
2.50qt
TRA03
8.50in
12.62in
1.00in
-40.00°F
212.00°F
TRA04
3.75in
6.50in
-40.00°F
212.00°F
27.00fl oz
20.00fl oz
TRA05
4.25in
7.00in
-40.00°F
212.00°F
37.00fl oz
28.00fl oz
TRA07
15.00in
5.00in
3.25in
-40.00°F
212.00°F
TRA08
1.00in
11.00in
-40.00°F
212.00°F
TRA09
1.00in
8.00in
-40.00°F
212.00°F
TRA10
19.50in
11.00in
1.00in
-40.00°F
212.00°F
TRA11
5.75in
15.25in
-40.00°F
212.00°F
7.50qt
5.50qt
TRA12
12.00in
2.63in
-40.00°F
212.00°F
13.00in
11.00in
2.50qt
3.63in
1.50qt
Product
Case
Length
Width
Height
Diameter
Min Temperature
Max Temperature
Base Length
Base Width
Diameter Max
Diameter Minimum
Flush Fill Capacity
Height At Highest Point
Practical Fill Capacity
Pack
Weight
Cube
TRA06
2.54cm
36.83cm
-40.00°C
100.00°C
TRA01
50.16cm
37.47cm
2.54cm
-40.00°C
100.00°C
TRA02
31.75cm
31.43cm
6.99cm
-40.00°C
100.00°C
19.05cm
18.73cm
3.79l
2.37l
TRA03
21.59cm
32.07cm
2.54cm
-40.00°C
100.00°C
TRA04
9.53cm
16.51cm
-40.00°C
100.00°C
0.80l
0.59l
TRA05
10.79cm
17.78cm
-40.00°C
100.00°C
1.09l
0.83l
TRA07
38.10cm
12.70cm
8.26cm
-40.00°C
100.00°C
TRA08
2.54cm
27.94cm
-40.00°C
100.00°C
TRA09
2.54cm
20.32cm
-40.00°C
100.00°C
TRA10
49.53cm
27.94cm
2.54cm
-40.00°C
100.00°C
TRA11
14.61cm
38.73cm
-40.00°C
100.00°C
7.10l
5.20l
TRA12
30.48cm
6.68cm
-40.00°C
100.00°C
33.02cm
27.94cm
2.37l
9.22cm
1.42l