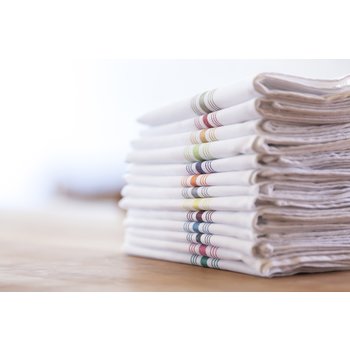 Our poly blend Bistro napkins provide the look and feel of cotton without fading or shrinking
The perfect accent for a wide variety of table settings
Achieve the spirit of farm-to-table with the authentic look of our Bistro Striped Napkins.
These napkins hold their color and don't bleed like the competition.
Designed to be washed with bleach.
18" × 22" pre-cut with hemmed edge.
15 color options.
To order, call your sales representative or call our customer service at (800) 654-8210.
Product
Description
Case
Pack
Weight
Cube
53771822NH
Bistro Striped Napkin 18" x 22"
12ea
Product
Case
Length
Width
Min Temperature
Max Temperature
Pack
Weight
Cube
53771822NH
12ea
18.00in
22.00in
-40.00°F
140.00°F
Product
Case
Length
Width
Min Temperature
Max Temperature
Pack
Weight
Cube
53771822NH
12ea
45.72cm
55.88cm
-40.00°C
60.00°C