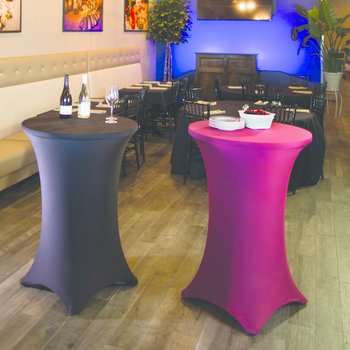 Embrace's sleek design delivers a stylish look for banquets, trade shows, indoor & outdoor events and corporate gatherings.
The true, four-way stretch fabric easily expands over most tables for a uniformed look - no measuring required.
Polyester/Spandex fabric embraces the table providing a snug fit and eliminating wrinkles.
Reinforced plastic feet come standard and are sewn in to hold the cover firmly in place.
Feet protect linens from contact with rough floor surfaces and help to prevent ripping and soiling.
Sleek, contemporary design fits over tables with no pinning or clips.
Serving as a functional linen, Embrace is perfect for tray-stands, beverage dispensers and waste receptacles.
Easy to install; no pressing or dry cleaning required. Machine washable and dryable for easy care. Available in nine contemporary and trend-forward colors. Fabric by Milliken; Made in USA.
To order, call your Marko representative or call Marko customer service at (800) 654-8210.
5026 Embrace
Black(014)

Burgundy(046)

Cadet Blue(062)

Charcoal(512)

Chocolate(515)

Dark Lava(633)

Peach(030)

Sandalwood(049)

White(010)
Product
Description
Case
Pack
Weight
Cube
EMB5026AC418
Embrace™ Arch Cut Stretch Table Cover 48" x 18" x 30"
1ea
EMB5026AC424
Embrace™ Arch Cut Stretch Table Cover 48" x 24" x 30"
1ea
4.50lb
0.48ft³
EMB5026AC430
Embrace™ Arch Cut Stretch Table Cover 48" x 30" x 30"
1ea
4.50lb
0.48ft³
EMB5026AC618
Embrace™ Arch Cut Stretch Table Cover 72" x 18" x 30"
1ea
4.50lb
0.48ft³
EMB5026AC624
Embrace™ Arch Cut Stretch Table Cover 72" x 24" x 30"
1ea
4.50lb
0.48ft³
EMB5026AC630
Embrace™ Arch Cut Stretch Table Cover 72" x 30" x 30"
1ea
4.50lb
0.48ft³
EMB5026AC818
Embrace™ Arch Cut Stretch Table Cover 96" x 18" x 30"
1ea
4.50lb
0.48ft³
EMB5026AC824
Embrace™ Arch Cut Stretch Table Cover 96" x 24" x 30"
1ea
4.50lb
0.48ft³
EMB5026AC830
Embrace™ Arch Cut Stretch Table Cover 96" x 30" x 30"
1ea
4.50lb
0.48ft³
EMB5026BS10
Embrace™ Beverage Server Cover 10 Gal
1ea
4.50lb
0.48ft³
EMB5026BS5
Embrace™ Beverage Server Cover 5 Gal
1ea
4.50lb
0.48ft³
EMB5026HT24
Embrace™ High Top Round Stretch Table Cover 24"
1ea
4.50lb
0.48ft³
EMB5026HT30
Embrace™ High Top Round Stretch Table Cover 30"
1ea
4.50lb
0.48ft³
EMB5026HT36
Embrace™ High Top Round Stretch Table Cover 36"
1ea
4.50lb
0.48ft³
EMB5026HT48
Embrace™ High Top Round Stretch Table Cover 48"
1ea
4.50lb
0.48ft³
EMB5026LTRC
Embrace™ Tray Stand Cover Over 30"
1ea
4.50lb
0.48ft³
EMB5026R24
Embrace™ Round Stretch Table Cover 24"
1ea
4.50lb
0.48ft³
EMB5026R30
Embrace™ Round Stretch Table Cover 30"
1ea
4.50lb
0.48ft³
EMB5026R36
Embrace™ Round Stretch Table Cover 36"
1ea
4.50lb
0.48ft³
EMB5026R48
Embrace™ Round Stretch Table Cover 48"
1ea
4.50lb
0.48ft³
EMB5026R54
Embrace™ Round Stretch Table Cover 54"
1ea
4.50lb
0.48ft³
EMB5026R60
Embrace™ Round Stretch Table Cover 60"
1ea
4.50lb
0.48ft³
EMB5026R66
Embrace™ Round Stretch Table Cover 66"
1ea
4.50lb
0.48ft³
EMB5026R72
Embrace™ Round Stretch Table Cover 72"
1ea
4.50lb
0.48ft³
EMB5026RT418
Embrace™ Rectangle Stretch Table Cover 48" x 18" x 30"
1ea
4.50lb
0.48ft³
EMB5026RT424
Embrace™ Rectangle Stretch Table Cover 48" x 24" x 30"
1ea
4.50lb
0.48ft³
EMB5026RT430
Embrace™ Rectangle Stretch Table Cover 48" x 30" x 30"
1ea
4.50lb
0.48ft³
EMB5026RT618
Embrace™ Rectangle Stretch Table Cover 72" x 18" x 30"
1ea
4.50lb
0.48ft³
EMB5026RT624
Embrace™ Rectangle Stretch Table Cover 72" x 24" x 30"
1ea
4.50lb
0.48ft³
EMB5026RT630
Embrace™ Rectangle Stretch Table Cover 72" x 30" x 30"
1ea
4.50lb
0.48ft³
EMB5026RT818
Embrace™ Rectangle Stretch Table Cover 96" x 18" x 30"
1ea
4.50lb
0.48ft³
EMB5026RT824
Embrace™ Rectangle Stretch Table Cover 96" x 24" x 30"
1ea
4.50lb
0.48ft³
EMB5026RT830
Embrace™ Rectangle Stretch Table Cover 96" x 30" x 30"
1ea
4.50lb
0.48ft³
EMB5026S3030
Embrace™ Square Stretch Table Cover 30" x 30" x 30"
1ea
4.50lb
0.48ft³
EMB5026S3636
Embrace™ Square Stretch Table Cover 36" x 36" x 30"
1ea
4.50lb
0.48ft³
EMB5026S4848
Embrace™ Square Stretch Table Cover 48" x 48" x 30"
1ea
4.50lb
0.48ft³
EMB5026S5454
Embrace™ Square Stretch Table Cover 54" x 54" x 30"
1ea
4.50lb
0.48ft³
EMB5026S6060
Embrace™ Square Stretch Table Cover 60" x 60" x 30"
1ea
4.50lb
0.48ft³
EMB5026TLC23
Embrace™ TrimLine Cover 23 Gal.
1ea
4.50lb
0.48ft³
EMB5026TRC
Embrace™ Tray Cover 30"
1ea
4.50lb
0.48ft³
EMB5026WC35
Embrace™ Waste Container Cover 32 Gal
1ea
4.50lb
0.48ft³
EMB5026WC44
Embrace™ Waste Container Cover 44 Gal
1ea
4.50lb
0.48ft³
EMB5026WC55
Embrace™ Waste Container Cover 55 Gal
1ea
4.50lb
0.48ft³
Product
Case
Length
Width
Height
Min Temperature
Max Temperature
Widest Diameter
Pack
Weight
Cube
EMB5026AC418
1ea
48.00in
18.00in
30.00in
-40.00°F
140.00°F
EMB5026AC424
1ea
4.50lb
0.48ft3
48.00in
24.00in
30.00in
-40.00°F
140.00°F
EMB5026AC430
1ea
4.50lb
0.48ft3
48.00in
30.00in
30.00in
-40.00°F
140.00°F
EMB5026AC618
1ea
4.50lb
0.48ft3
72.00in
18.00in
30.00in
-40.00°F
140.00°F
EMB5026AC624
1ea
4.50lb
0.48ft3
72.00in
24.00in
30.00in
-40.00°F
140.00°F
EMB5026AC630
1ea
4.50lb
0.48ft3
72.00in
30.00in
30.00in
-40.00°F
140.00°F
EMB5026AC818
1ea
4.50lb
0.48ft3
96.00in
18.00in
30.00in
-40.00°F
140.00°F
EMB5026AC824
1ea
4.50lb
0.48ft3
96.00in
24.00in
30.00in
-40.00°F
140.00°F
EMB5026AC830
1ea
4.50lb
0.48ft3
96.00in
30.00in
30.00in
-40.00°F
140.00°F
EMB5026BS10
1ea
4.50lb
0.48ft3
21.00in
17.00in
30.00in
-40.00°F
140.00°F
EMB5026BS5
1ea
4.50lb
0.48ft3
17.00in
27.00in
-40.00°F
140.00°F
11.00in
EMB5026HT24
1ea
4.50lb
0.48ft3
24.00in
24.00in
30.00in
-40.00°F
140.00°F
EMB5026HT30
1ea
4.50lb
0.48ft3
30.00in
30.00in
30.00in
-40.00°F
140.00°F
EMB5026HT36
1ea
4.50lb
0.48ft3
36.00in
36.00in
30.00in
-40.00°F
140.00°F
EMB5026HT48
1ea
4.50lb
0.48ft3
48.00in
48.00in
30.00in
-40.00°F
140.00°F
EMB5026LTRC
1ea
4.50lb
0.48ft3
24.00in
24.00in
42.00in
-40.00°F
140.00°F
EMB5026R24
1ea
4.50lb
0.48ft3
24.00in
24.00in
30.00in
-40.00°F
140.00°F
EMB5026R30
1ea
4.50lb
0.48ft3
30.00in
30.00in
30.00in
-40.00°F
140.00°F
EMB5026R36
1ea
4.50lb
0.48ft3
36.00in
36.00in
30.00in
-40.00°F
140.00°F
EMB5026R48
1ea
4.50lb
0.48ft3
48.00in
48.00in
30.00in
-40.00°F
140.00°F
EMB5026R54
1ea
4.50lb
0.48ft3
54.00in
54.00in
30.00in
-40.00°F
140.00°F
EMB5026R60
1ea
4.50lb
0.48ft3
60.00in
60.00in
30.00in
-40.00°F
140.00°F
EMB5026R66
1ea
4.50lb
0.48ft3
66.00in
66.00in
30.00in
-40.00°F
140.00°F
EMB5026R72
1ea
4.50lb
0.48ft3
72.00in
72.00in
30.00in
-40.00°F
140.00°F
EMB5026RT418
1ea
4.50lb
0.48ft3
48.00in
18.00in
30.00in
-40.00°F
140.00°F
EMB5026RT424
1ea
4.50lb
0.48ft3
48.00in
24.00in
30.00in
-40.00°F
140.00°F
EMB5026RT430
1ea
4.50lb
0.48ft3
48.00in
30.00in
30.00in
-40.00°F
140.00°F
EMB5026RT618
1ea
4.50lb
0.48ft3
72.00in
18.00in
30.00in
-40.00°F
140.00°F
EMB5026RT624
1ea
4.50lb
0.48ft3
72.00in
24.00in
30.00in
-40.00°F
140.00°F
EMB5026RT630
1ea
4.50lb
0.48ft3
72.00in
30.00in
30.00in
-40.00°F
140.00°F
EMB5026RT818
1ea
4.50lb
0.48ft3
96.00in
18.00in
30.00in
-40.00°F
140.00°F
EMB5026RT824
1ea
4.50lb
0.48ft3
96.00in
24.00in
30.00in
-40.00°F
140.00°F
EMB5026RT830
1ea
4.50lb
0.48ft3
96.00in
30.00in
30.00in
-40.00°F
140.00°F
EMB5026S3030
1ea
4.50lb
0.48ft3
30.00in
30.00in
30.00in
-40.00°F
140.00°F
EMB5026S3636
1ea
4.50lb
0.48ft3
36.00in
36.00in
30.00in
-40.00°F
140.00°F
EMB5026S4848
1ea
4.50lb
0.48ft3
48.00in
48.00in
30.00in
-40.00°F
140.00°F
EMB5026S5454
1ea
4.50lb
0.48ft3
54.00in
54.00in
30.00in
-40.00°F
140.00°F
EMB5026S6060
1ea
4.50lb
0.48ft3
60.00in
60.00in
30.00in
-40.00°F
140.00°F
EMB5026TLC23
1ea
4.50lb
0.48ft3
20.00in
11.00in
30.00in
-40.00°F
140.00°F
EMB5026TRC
1ea
4.50lb
0.48ft3
30.00in
30.00in
30.00in
-40.00°F
140.00°F
EMB5026WC35
1ea
4.50lb
0.48ft3
30.00in
30.00in
30.00in
-40.00°F
140.00°F
EMB5026WC44
1ea
4.50lb
0.48ft3
30.00in
30.00in
36.00in
-40.00°F
140.00°F
EMB5026WC55
1ea
4.50lb
0.48ft3
32.00in
32.00in
36.00in
-40.00°F
140.00°F
Product
Case
Length
Width
Height
Min Temperature
Max Temperature
Widest Diameter
Pack
Weight
Cube
EMB5026AC418
1ea
121.92cm
45.72cm
76.20cm
-40.00°C
60.00°C
EMB5026AC424
1ea
4.50kg
0.48m3
121.92cm
60.96cm
76.20cm
-40.00°C
60.00°C
EMB5026AC430
1ea
4.50kg
0.48m3
121.92cm
76.20cm
76.20cm
-40.00°C
60.00°C
EMB5026AC618
1ea
4.50kg
0.48m3
182.88cm
45.72cm
76.20cm
-40.00°C
60.00°C
EMB5026AC624
1ea
4.50kg
0.48m3
182.88cm
60.96cm
76.20cm
-40.00°C
60.00°C
EMB5026AC630
1ea
4.50kg
0.48m3
182.88cm
76.20cm
76.20cm
-40.00°C
60.00°C
EMB5026AC818
1ea
4.50kg
0.48m3
243.84cm
45.72cm
76.20cm
-40.00°C
60.00°C
EMB5026AC824
1ea
4.50kg
0.48m3
243.84cm
60.96cm
76.20cm
-40.00°C
60.00°C
EMB5026AC830
1ea
4.50kg
0.48m3
243.84cm
76.20cm
76.20cm
-40.00°C
60.00°C
EMB5026BS10
1ea
4.50kg
0.48m3
53.34cm
43.18cm
76.20cm
-40.00°C
60.00°C
EMB5026BS5
1ea
4.50kg
0.48m3
43.18cm
68.58cm
-40.00°C
60.00°C
27.94cm
EMB5026HT24
1ea
4.50kg
0.48m3
60.96cm
60.96cm
76.20cm
-40.00°C
60.00°C
EMB5026HT30
1ea
4.50kg
0.48m3
76.20cm
76.20cm
76.20cm
-40.00°C
60.00°C
EMB5026HT36
1ea
4.50kg
0.48m3
91.44cm
91.44cm
76.20cm
-40.00°C
60.00°C
EMB5026HT48
1ea
4.50kg
0.48m3
121.92cm
121.92cm
76.20cm
-40.00°C
60.00°C
EMB5026LTRC
1ea
4.50kg
0.48m3
60.96cm
60.96cm
106.68cm
-40.00°C
60.00°C
EMB5026R24
1ea
4.50kg
0.48m3
60.96cm
60.96cm
76.20cm
-40.00°C
60.00°C
EMB5026R30
1ea
4.50kg
0.48m3
76.20cm
76.20cm
76.20cm
-40.00°C
60.00°C
EMB5026R36
1ea
4.50kg
0.48m3
91.44cm
91.44cm
76.20cm
-40.00°C
60.00°C
EMB5026R48
1ea
4.50kg
0.48m3
121.92cm
121.92cm
76.20cm
-40.00°C
60.00°C
EMB5026R54
1ea
4.50kg
0.48m3
137.16cm
137.16cm
76.20cm
-40.00°C
60.00°C
EMB5026R60
1ea
4.50kg
0.48m3
152.40cm
152.40cm
76.20cm
-40.00°C
60.00°C
EMB5026R66
1ea
4.50kg
0.48m3
167.64cm
167.64cm
76.20cm
-40.00°C
60.00°C
EMB5026R72
1ea
4.50kg
0.48m3
182.88cm
182.88cm
76.20cm
-40.00°C
60.00°C
EMB5026RT418
1ea
4.50kg
0.48m3
121.92cm
45.72cm
76.20cm
-40.00°C
60.00°C
EMB5026RT424
1ea
4.50kg
0.48m3
121.92cm
60.96cm
76.20cm
-40.00°C
60.00°C
EMB5026RT430
1ea
4.50kg
0.48m3
121.92cm
76.20cm
76.20cm
-40.00°C
60.00°C
EMB5026RT618
1ea
4.50kg
0.48m3
182.88cm
45.72cm
76.20cm
-40.00°C
60.00°C
EMB5026RT624
1ea
4.50kg
0.48m3
182.88cm
60.96cm
76.20cm
-40.00°C
60.00°C
EMB5026RT630
1ea
4.50kg
0.48m3
182.88cm
76.20cm
76.20cm
-40.00°C
60.00°C
EMB5026RT818
1ea
4.50kg
0.48m3
243.84cm
45.72cm
76.20cm
-40.00°C
60.00°C
EMB5026RT824
1ea
4.50kg
0.48m3
243.84cm
60.96cm
76.20cm
-40.00°C
60.00°C
EMB5026RT830
1ea
4.50kg
0.48m3
243.84cm
76.20cm
76.20cm
-40.00°C
60.00°C
EMB5026S3030
1ea
4.50kg
0.48m3
76.20cm
76.20cm
76.20cm
-40.00°C
60.00°C
EMB5026S3636
1ea
4.50kg
0.48m3
91.44cm
91.44cm
76.20cm
-40.00°C
60.00°C
EMB5026S4848
1ea
4.50kg
0.48m3
121.92cm
121.92cm
76.20cm
-40.00°C
60.00°C
EMB5026S5454
1ea
4.50kg
0.48m3
137.16cm
137.16cm
76.20cm
-40.00°C
60.00°C
EMB5026S6060
1ea
4.50kg
0.48m3
152.40cm
152.40cm
76.20cm
-40.00°C
60.00°C
EMB5026TLC23
1ea
4.50kg
0.48m3
50.80cm
27.94cm
76.20cm
-40.00°C
60.00°C
EMB5026TRC
1ea
4.50kg
0.48m3
76.20cm
76.20cm
76.20cm
-40.00°C
60.00°C
EMB5026WC35
1ea
4.50kg
0.48m3
76.20cm
76.20cm
76.20cm
-40.00°C
60.00°C
EMB5026WC44
1ea
4.50kg
0.48m3
76.20cm
76.20cm
91.44cm
-40.00°C
60.00°C
EMB5026WC55
1ea
4.50kg
0.48m3
81.28cm
81.28cm
91.44cm
-40.00°C
60.00°C