What is a CCMS?
CCMS stands for Change Control Management System.  The CCMS system is a tool the company uses to track requests for changes to business systems.  The CCMS tool ensures that all required approvals are given for any changes to systems or data.
To submit a CCMS
Connect to the company VPN.  If support is needed please contact the Help Desk.
Navigate to home.carlislefsp.com and login with your Windows/User credentials.  
Click on the grey tab at the top of the page labeled MyCarlisle.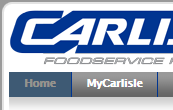 Click Submit a New Request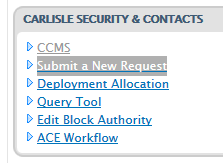 You will need to make a choice between Application or Data Change and User Authority Request
User Authority Requests are used for iSeries permissions.  All website permissions will require a Help Desk Ticket.
Application or Data Change are used for changes to business systems, websites, and data.
If you have any further questions please feel free to contact the Help Desk.