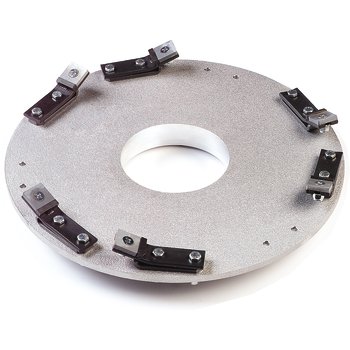 Scrape-Away® and Grind-Away tools are a quick and powerful solution for your concrete floor preparation needs. The scrape-away® and grind-away tools are only designed for use with 175 rpm rotary machines with 1HP or greater. The heavy-duty circular aluminum casting has a 5" center hole and a universal metal clutch plate is required. These tools cannot be used with riser blocks. Finding the exact sweeper, scrubber, and rotary brush is quick and easy. Simply refer to our Rotary Wizard™, and you will be guided to the exact item that matches your specific need.
The productive, economical, and environmentally safe method for scraping and preparing concrete floors and stripping of film coatings, packed soils, ice, etc
Equipped with 6 replaceable carbon steel cutter blades; each blade has 8 cutting edges; three replacement blades per set
Available in 13", 15", and 17" sizes
Scrape-Away® can be fit with Grind‑Away® grit blocks
Order 2" smaller than machine size.