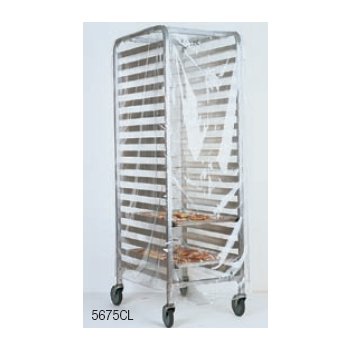 Create a sanitary barrier for all of your mobile pan racks.
Durable 8 mill matte clear vinyl provides an economical way to protect pre-plated food.
Roomy, full-end flaps with Hook & Loop closures make it easy to load and unload trays.
Simply wipe clean with a soft, damp cloth.
Remains supple even when refrigerated.
5675CL Large Rack Cover fits standard 11 and 18 shelf racks, 22" opening X 32" wide X 61" high (56cm opening X 81cm wide X 155cm high)
To order, call your Marko representative or call Marko customer service at (800) 654-8210.