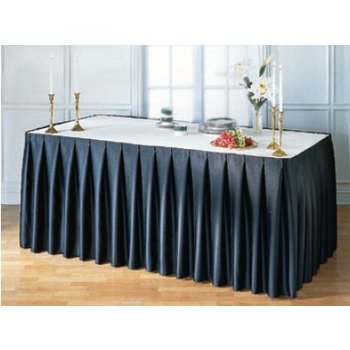 Shown: 5024 TruFinish™ Classic Twill Weave Table Skirt (with Hook & Loop header, accordian pleat, and 5118MP Spring-OnTM Clips) in Black(014) with Table Topper in White(010).
Use to cover the top of skirted tables for a more defined, finished look.
For best results, allow an 8" (20cm) drop on all four sides of the table to accommodate the attachment system.
For buffet set-ups, use Vinyl Table Toppers for easy clean up of spills.
Toppers are available in the same color and fabric used for the skirt or select a contrsting color for versatility.
Choose from our vast selection of fabrics, vinyls, prints, and colors featured in the catalog.
To order, call your Marko representative or call Marko customer service at (800) 654-8210.