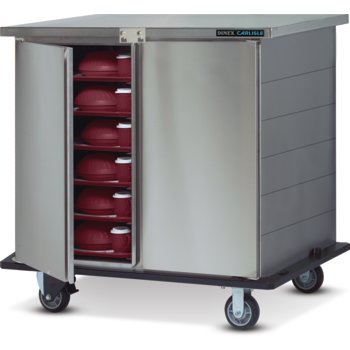 Dinex Deluxe Tray Delivery Carts are available in a variety of configurations —all are Stainless Steel construction and are built to transport hot meals quickly and quietly while delivering maximum value and efficiency to your facility.
Dinex Deluxe Tray Delivery Carts are field-adjustable to accommodate the most popular tray sizes: 14˝ x 18˝, 15˝ x 20˝, 12˝ x 19˝, and 12˝ x 20˝. DXTS1T2D series carts can also accommodate 16˝ x 22˝ trays. Specify tray size when ordering.
Available accessories include: Menu Holder, Tow Hitch, Floor Drains, and Top Handles (shown).
We do not accept returns on any Dinex equipment or Dinex custom products. Please contact your local Dinex rep to ensure order accuracy prior to ordering.