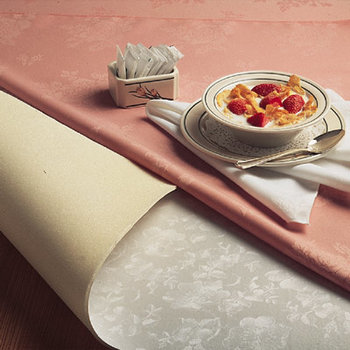 SHOWN: 5381 Table Padding
The perfect companion to any tablecloth.
Adds comfort while minimizing noise and tableware breakage.
Thick foam is laminated to a white vinyl, 36" and 54" with a floral embossed pattern, 68" in solid white.
Roll goods available in three convenient widths:
5380 36" x 25 yd roll (91cm x 22.9m)
5381 54" x 25 yd roll (137cm x 22.9m) or 54" x 13 yd roll (137cm x 11.9m)
Also available in finished sizes; please refer to the price list for more details.
WARNING: Vinyl products on these pages contain chemicals, including one or more phthalates, known to the State of California to cause cancer and birth defects and other reproductive harm. (CA H&S Code Section 25249.6)