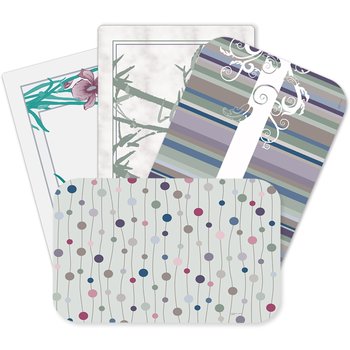 Create an upscale traytop with decorator tray covers and napkins, coordinated with the colors and designs of your Dinex insulated ware.
Durable and disposable paper products create a welcome setting for your patient or resident
Help to keep the tray clean and organized during meal delivery
We do not accept returns on any Dinex equipment or Dinex custom products. Please contact your local Dinex rep to ensure order accuracy prior to ordering.
Product
Description
Pack Size
Case
Pack
Weight
Cube
13"x19" Size Q
DX5350Q
Filigree (Black, Gold)
1000ea
1cs
22.00lb
0.48ft³
15"x20" Trays - Size M
DX5360M
Tray Cover Size: M w/ Straight Edge/Round Corner 13-5/8" x 18-3/4" (1000/cs)
1000ea
1cs
22.00lb
0.48ft³
DX5365M
Tray Cover Size: M w/ Straight Edge/Round Corner 13-5/8" x 18-3/4" (1000/cs)
1000ea
1cs
22.00lb
0.48ft³
DX5350M
Filigree (Black, Gold)
1000ea
1cs
22.00lb
0.48ft³
DX5243M
Freesia Recycled (Cranberry, Midnight Blue, Green)
1000ea
1cs
22.00lb
0.48ft³
DX5081M202733
Iris Garden (Cranberry, Teal, Gray)
1000ea
1cs
22.00lb
0.48ft³
DX5055M202833
Jane's Bouquet (Cranberry, Midnight Blue, Teal)
1000ea
1cs
22.00lb
0.48ft³
DX5091M0000
Jenny Park (Teal, Black, Orange)
1000ea
1cs
22.00lb
0.48ft³
DX5320M
Marbled Elegance (Black, Gray)
1000ea
1cs
22.00lb
0.48ft³
DX5331M
Retro (Cranberry, Plum, Sage, Midnight Blue, Latte)
1000ea
1cs
22.00lb
0.48ft³
DX5333M
Vertese (Midnight Blue, Plum, Sage, Latte)
1000ea
1cs
22.00lb
0.48ft³
DX5999M00102
White Embossed
2000ea
1cs
43.00lb
1.33ft³
DX5999MEW
Solid Tray Covers (White, Cranberry, Blue, Sage)
2000ea
1cs
14"x18" Trays - Size I
DX5243I
Freesia Recycled (Cranberry, Green, Midnight Blue)
1000ea
1cs
18.00lb
0.42ft³
DX5055I202833
Jane's Bouquet (Cranberry, Midnight Blue, Teal)
1000ea
1cs
18.00lb
0.42ft³
DX5320I
Marbled Elegance (Black, Gray)
1000ea
1cs
18.00lb
0.42ft³
DX5331I
Retro (Cranberry, Midnight Blue, Plum, Sage, Latte)
1000ea
1cs
0.50lb
DX5333I
Vertese (Midnight Blue, Plum, Sage, Latte)
1000ea
1cs
0.50lb
DX5323I
Watercolors, (Cranberry, Midnight Blue, Green, Mauve, Teal)
1000ea
1cs
18.00lb
0.42ft³
DX5999I00102
White Embossed
2000ea
1cs
36.20lb
1.07ft³
11-3/8x19-1/2" Tray Cover Size V Heavy-Weight
DX5322VHW
Marbled Elegance II (Cranberry, Midnight Blue, Gray)
1000ea
1cs
24.00lb
0.53ft³
Product
Pack Size
Case
Length
Width
Weight
Min Temperature
Max Temperature
Pack
Weight
Cube
13"x19" Size Q
DX5350Q
1000ea
1cs
22.00lb
0.48ft3
19.00in
13.00in
0.02lb
-40.00°F
400.00°F
15"x20" Trays - Size M
DX5360M
1000ea
1cs
22.00lb
0.48ft3
18.75in
13.62in
0.02lb
-40.00°F
400.00°F
DX5365M
1000ea
1cs
22.00lb
0.48ft3
18.75in
13.62in
0.02lb
-40.00°F
400.00°F
DX5350M
1000ea
1cs
22.00lb
0.48ft3
18.75in
13.62in
0.02lb
-40.00°F
400.00°F
DX5243M
1000ea
1cs
22.00lb
0.48ft3
18.75in
13.62in
0.02lb
-40.00°F
400.00°F
DX5081M202733
1000ea
1cs
22.00lb
0.48ft3
18.75in
13.62in
0.02lb
-40.00°F
400.00°F
DX5055M202833
1000ea
1cs
22.00lb
0.48ft3
18.75in
13.62in
0.02lb
-40.00°F
400.00°F
DX5091M0000
1000ea
1cs
22.00lb
0.48ft3
18.75in
13.62in
0.02lb
-40.00°F
400.00°F
DX5320M
1000ea
1cs
22.00lb
0.48ft3
18.75in
13.62in
0.02lb
-40.00°F
400.00°F
DX5331M
1000ea
1cs
22.00lb
0.48ft3
18.75in
13.62in
0.02lb
-40.00°F
400.00°F
DX5333M
1000ea
1cs
22.00lb
0.48ft3
18.75in
13.62in
0.02lb
-40.00°F
400.00°F
DX5999M00102
2000ea
1cs
43.00lb
1.33ft3
18.75in
13.62in
0.02lb
-40.00°F
400.00°F
DX5999MEW
2000ea
1cs
18.75in
13.63in
0.02lb
-40.00°F
400.00°F
14"x18" Trays - Size I
DX5243I
1000ea
1cs
18.00lb
0.42ft3
16.62in
12.75in
0.02lb
-40.00°F
400.00°F
DX5055I202833
1000ea
1cs
18.00lb
0.42ft3
16.62in
12.75in
0.02lb
-40.00°F
400.00°F
DX5320I
1000ea
1cs
18.00lb
0.42ft3
16.62in
12.75in
0.02lb
-40.00°F
400.00°F
DX5331I
1000ea
1cs
0.50lb
16.62in
12.75in
0.00lb
-40.00°F
400.00°F
DX5333I
1000ea
1cs
0.50lb
16.62in
12.75in
0.00lb
-40.00°F
400.00°F
DX5323I
1000ea
1cs
18.00lb
0.42ft3
16.62in
12.75in
0.02lb
-40.00°F
400.00°F
DX5999I00102
2000ea
1cs
36.20lb
1.07ft3
16.62in
12.75in
0.02lb
-40.00°F
400.00°F
11-3/8x19-1/2" Tray Cover Size V Heavy-Weight
DX5322VHW
1000ea
1cs
24.00lb
0.53ft3
19.50in
11.38in
0.02lb
-40.00°F
400.00°F
Product
Pack Size
Case
Length
Width
Weight
Min Temperature
Max Temperature
Pack
Weight
Cube
13"x19" Size Q
DX5350Q
1000ea
1cs
22.00kg
0.48m3
48.26cm
33.02cm
0.01kg
-40.00°C
204.44°C
15"x20" Trays - Size M
DX5360M
1000ea
1cs
22.00kg
0.48m3
47.62cm
34.61cm
0.01kg
-40.00°C
204.44°C
DX5365M
1000ea
1cs
22.00kg
0.48m3
47.62cm
34.61cm
0.01kg
-40.00°C
204.44°C
DX5350M
1000ea
1cs
22.00kg
0.48m3
47.62cm
34.61cm
0.01kg
-40.00°C
204.44°C
DX5243M
1000ea
1cs
22.00kg
0.48m3
47.62cm
34.61cm
0.01kg
-40.00°C
204.44°C
DX5081M202733
1000ea
1cs
22.00kg
0.48m3
47.62cm
34.61cm
0.01kg
-40.00°C
204.44°C
DX5055M202833
1000ea
1cs
22.00kg
0.48m3
47.62cm
34.61cm
0.01kg
-40.00°C
204.44°C
DX5091M0000
1000ea
1cs
22.00kg
0.48m3
47.62cm
34.61cm
0.01kg
-40.00°C
204.44°C
DX5320M
1000ea
1cs
22.00kg
0.48m3
47.62cm
34.61cm
0.01kg
-40.00°C
204.44°C
DX5331M
1000ea
1cs
22.00kg
0.48m3
47.62cm
34.61cm
0.01kg
-40.00°C
204.44°C
DX5333M
1000ea
1cs
22.00kg
0.48m3
47.62cm
34.61cm
0.01kg
-40.00°C
204.44°C
DX5999M00102
2000ea
1cs
43.00kg
1.33m3
47.62cm
34.61cm
0.01kg
-40.00°C
204.44°C
DX5999MEW
2000ea
1cs
47.62cm
34.62cm
0.01kg
-40.00°C
204.44°C
14"x18" Trays - Size I
DX5243I
1000ea
1cs
18.00kg
0.42m3
42.23cm
32.38cm
0.01kg
-40.00°C
204.44°C
DX5055I202833
1000ea
1cs
18.00kg
0.42m3
42.23cm
32.38cm
0.01kg
-40.00°C
204.44°C
DX5320I
1000ea
1cs
18.00kg
0.42m3
42.23cm
32.38cm
0.01kg
-40.00°C
204.44°C
DX5331I
1000ea
1cs
0.50kg
42.23cm
32.38cm
0.00kg
-40.00°C
204.44°C
DX5333I
1000ea
1cs
0.50kg
42.23cm
32.38cm
0.00kg
-40.00°C
204.44°C
DX5323I
1000ea
1cs
18.00kg
0.42m3
42.23cm
32.38cm
0.01kg
-40.00°C
204.44°C
DX5999I00102
2000ea
1cs
36.20kg
1.07m3
42.23cm
32.38cm
0.01kg
-40.00°C
204.44°C
11-3/8x19-1/2" Tray Cover Size V Heavy-Weight
DX5322VHW
1000ea
1cs
24.00kg
0.53m3
49.53cm
28.89cm
0.01kg
-40.00°C
204.44°C