Upgraded, Ergonomic Sweeping Solutions
CFS Brands - Sparta has added exclusive new ergonomic, functionality, and sustainability features to our already popular line of commercial-grade upright brooms. We know you will be swept away by the innovative improvements made to this line of floor-cleaning products.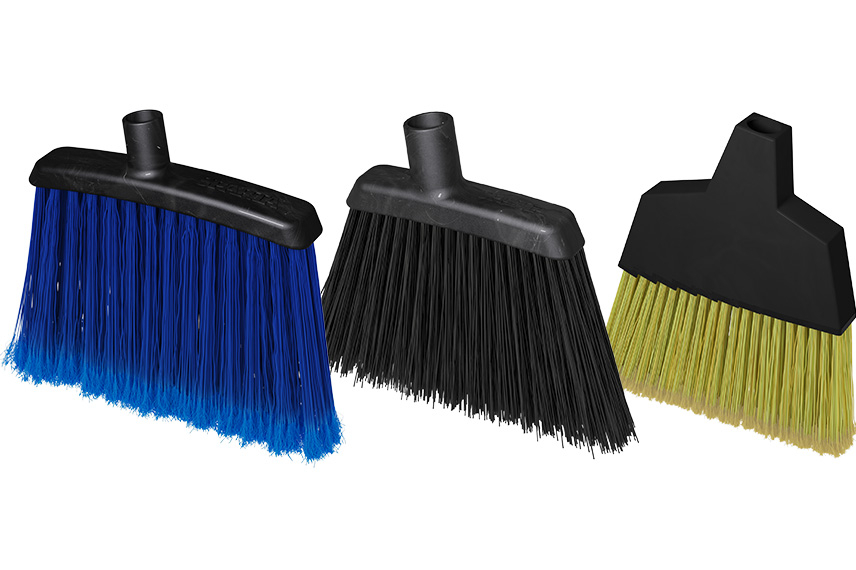 Benefits
Ergonomic Design
We've redesigned our upright brooms so that the handle placement eliminates potential wrist dis-comfort and reduces sweeping fatigue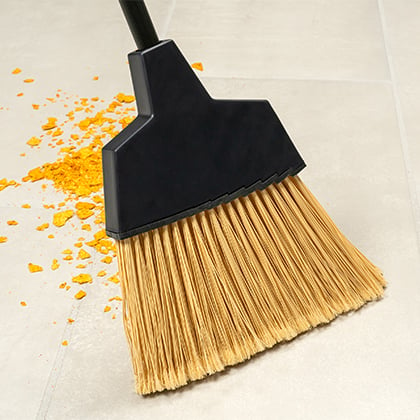 Improved Functionality
Angled heads and a selection of broom sizes/lengths allow for greater reach into corners and tight places.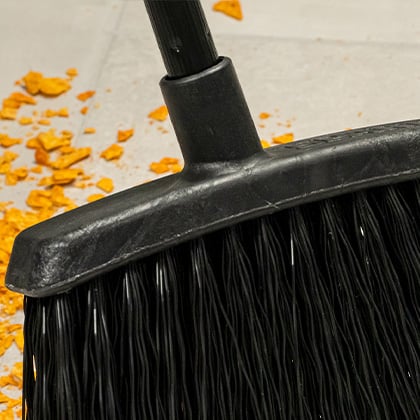 Added Threads Reduce Twisting Dreads
ACME compatible threads were added to the broom's handle openings to ensure a tighter, more permanent fit.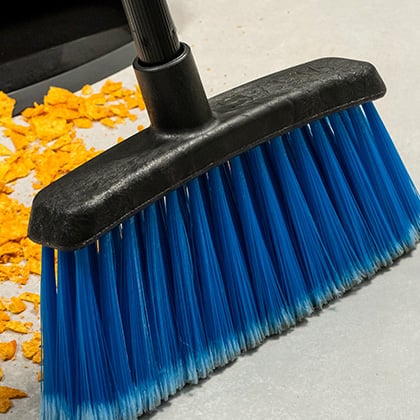 Sustainability
The bristle base/broom caps are now manufactured using recycled materials, and their new curved block design reduces waste during the production process.
Products
Product
Description
Case
Pack
Weight
Cube
Flagged
46853
Flagged Light Industrial Broom Head 12" Wide
12ea
16.95lb
3.96ft³
46867
Duo-Sweep® Flagged Angle Broom Head 12"
12ea
11.69lb
3.96ft³
46883
Duo-Sweep® Flagged Warehouse Broom with Black Metal Handle 48"
12ea
18.00lb
4.10ft³
46859
Duo-Sweep® Flagged Lobby Broom With Black Metal Handle 30"
12ea
10.63lb
1.76ft³
46861
Duo-Sweep® Flagged Lobby Broom with Black Metal Handle 36"
12ea
11.00lb
1.76ft³
41650
Flagged Angled Broom with Hood - Natural Color Bristles  55"
12ea
18.50lb
4.17ft³
Product
Case
Length
Width
Height
Weight
Bristle Trim
Overal Length
Pack
Weight
Cube
Flagged
46853
12ea
16.95lb
3.96ft3
1.75in
9.00in
6.90in
0.77lb
4.00in
8.00in
46867
12ea
11.69lb
3.96ft3
1.75in
9.00in
8.90in
0.89lb
6.00in
8.00in
46883
12ea
18.00lb
4.10ft3
1.75in
9.00in
55.00in
1.36lb
7.00in
55.50in
46859
12ea
10.63lb
1.76ft3
1.34in
6.00in
35.00in
0.92lb
4.00in
36.00in
46861
12ea
11.00lb
1.76ft3
1.34in
6.00in
35.00in
0.79lb
4.00in
36.00in
41650
12ea
18.50lb
4.17ft3
1.30in
10.00in
55.00in
1.29lb
6.00in
55.50in
Product
Case
Length
Width
Height
Weight
Bristle Trim
Overal Length
Pack
Weight
Cube
Flagged
46853
12ea
16.95kg
3.96m3
4.45cm
22.86cm
17.53cm
0.35kg
10.16cm
20.32cm
46867
12ea
11.69kg
3.96m3
4.45cm
22.86cm
22.61cm
0.40kg
15.24cm
20.32cm
46883
12ea
18.00kg
4.10m3
4.45cm
22.86cm
139.70cm
0.62kg
17.78cm
140.97cm
46859
12ea
10.63kg
1.76m3
3.40cm
15.24cm
88.90cm
0.42kg
10.16cm
91.44cm
46861
12ea
11.00kg
1.76m3
3.40cm
15.24cm
88.90cm
0.36kg
10.16cm
91.44cm
41650
12ea
18.50kg
4.17m3
3.30cm
25.40cm
139.70cm
0.58kg
15.24cm
140.97cm
Product
Description
Case
Pack
Weight
Cube
Un-Flagged
46884
Duo-Sweep® Unflagged Warehouse Broom with Black Metal Handle 48"
12ea
18.15lb
3.96ft³
46885
Duo-Sweep® Unflagged Heavy Duty Angle Broom with Black Metal Handle 48"
12ea
18.85lb
3.85ft³
46860
Flagged Angle Broom Head 12"
12ea
11.90lb
1.74ft³
Product
Case
Length
Width
Height
Weight
Bristle Trim
Overal Length
Pack
Weight
Cube
Un-Flagged
46884
12ea
18.15lb
3.96ft3
1.75in
9.00in
55.00in
1.32lb
7.00in
46885
12ea
18.85lb
3.85ft3
1.75in
9.00in
55.00in
1.39lb
5.50in
55.50in
46860
12ea
11.90lb
1.74ft3
1.34in
6.00in
35.00in
0.92lb
5.00in
36.00in
Product
Case
Length
Width
Height
Weight
Bristle Trim
Overal Length
Pack
Weight
Cube
Un-Flagged
46884
12ea
18.15kg
3.96m3
4.45cm
22.86cm
139.70cm
0.60kg
17.78cm
46885
12ea
18.85kg
3.85m3
4.45cm
22.86cm
139.70cm
0.63kg
13.97cm
140.97cm
46860
12ea
11.90kg
1.74m3
3.40cm
15.24cm
88.90cm
0.42kg
12.70cm
91.44cm