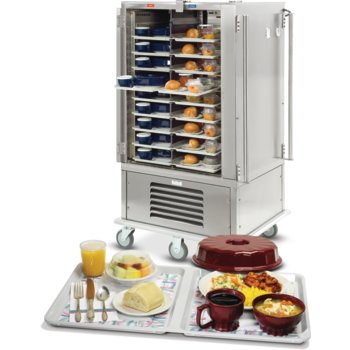 Run your trayline in advance and maintain hot and cold foods on one tray for extended delivery times. The Meals On Command system from Dinex combines state of the art technology with the classic Hot/Cold cart tray system. No more hot bases or lukewarm entrées the Meals On Command system provides hot entrées while preserving the cold foods on the tray.
Improve food quality and patient satisfaction!
Divided tray keeps hot on one side, refrigerated on the other
Pre-assemble trays for improved efficiency
30 – 60 minutes holding time for meals
Versatile 120v electrical service
We do not accept returns on any Dinex equipment or Dinex custom products. Please contact your local Dinex rep to ensure order accuracy prior to ordering.
Product
Description
Case
Pack
Weight
Cube
Meals On Command - Hot/Cold Delivery Carts
DXMOC10
Hot/Cold Tray Delivery System (Holds 10 Divided Trays)
1ea
325.00lb
89.66ft³
DXMOC20
Hot/Cold Tray Delivery System (Holds 20 Divided Trays)
1ea
367.00lb
41.81ft³
Meals On Command Tray Retrieval Cart
DXMOC20RC
Retrieval Cart
1ea
295.00lb
36.25ft³
Meals On Command Tray Retrieval Cart Options
DXMOCRCCB
Corner Bumpers for MOC Retrieval Cart
1cs
0.50lb
DXMOCRCDRAIN
Drain Assembly for MOC Retrieval Cart
1ea
0.50lb
DXMOCRCPH
Push-Handle for MOC Retrieval Cart - with donut bumpers
1ea
0.50lb
DXMOCRCTR1
Top Rail for MOC Retrieval Cart - 1 side
1ea
0.50lb
DXMOCRCTR2
Top Rail for MOC Retrieval Cart - 2 side
1ea
0.50lb
DXMOCRCTR3
Top Rail for MOC Retrieval Cart - 3 side
1ea
0.50lb
DXMOCRCTR4
Top Rail for MOC Retrieval Cart - 4 side
1ea
0.50lb
DXMOCRCWB
Wrap-around bumper for MOC Retrieval Cart
1ea
0.50lb
Tray Dispensor For Meals On Command™
DXMOCTD
Cantilever Tray Dispenser Tray
1ea
150.00lb
15.34ft³
Mobile Heated Cabinet
DXHC20
Heated Cabinet - 10 Slides
1ea
305.00lb
37.01ft³
DXHC24
Heated Cabinet - 12 Slides
1ea
350.00lb
57.75ft³
Heated Cabinet Options
DXHCHANDLES
Stainless Steel Push Handles, per pair
1ea
0.50lb
DXHCLATCH
Transport Latch, top mounted
1ea
0.50lb
DXHCMENU
Menu Card Holder
1ea
0.50lb
DXHCSLIDES
Additional Slides, per pair
1ea
0.50lb