Clean Rack. Clean Dishes
From the most fragile tableware to heavy-duty kitchen items such as utensils and cutlery, OptiClean Dish Racks offer the safest sanitary cleaning option. OptiClean Racks are engineered to flow. The honeycomb design ensures durability and the open wall ensures a free flow of water and soap. Wash, dry and hold with OptiClean Dish Racks.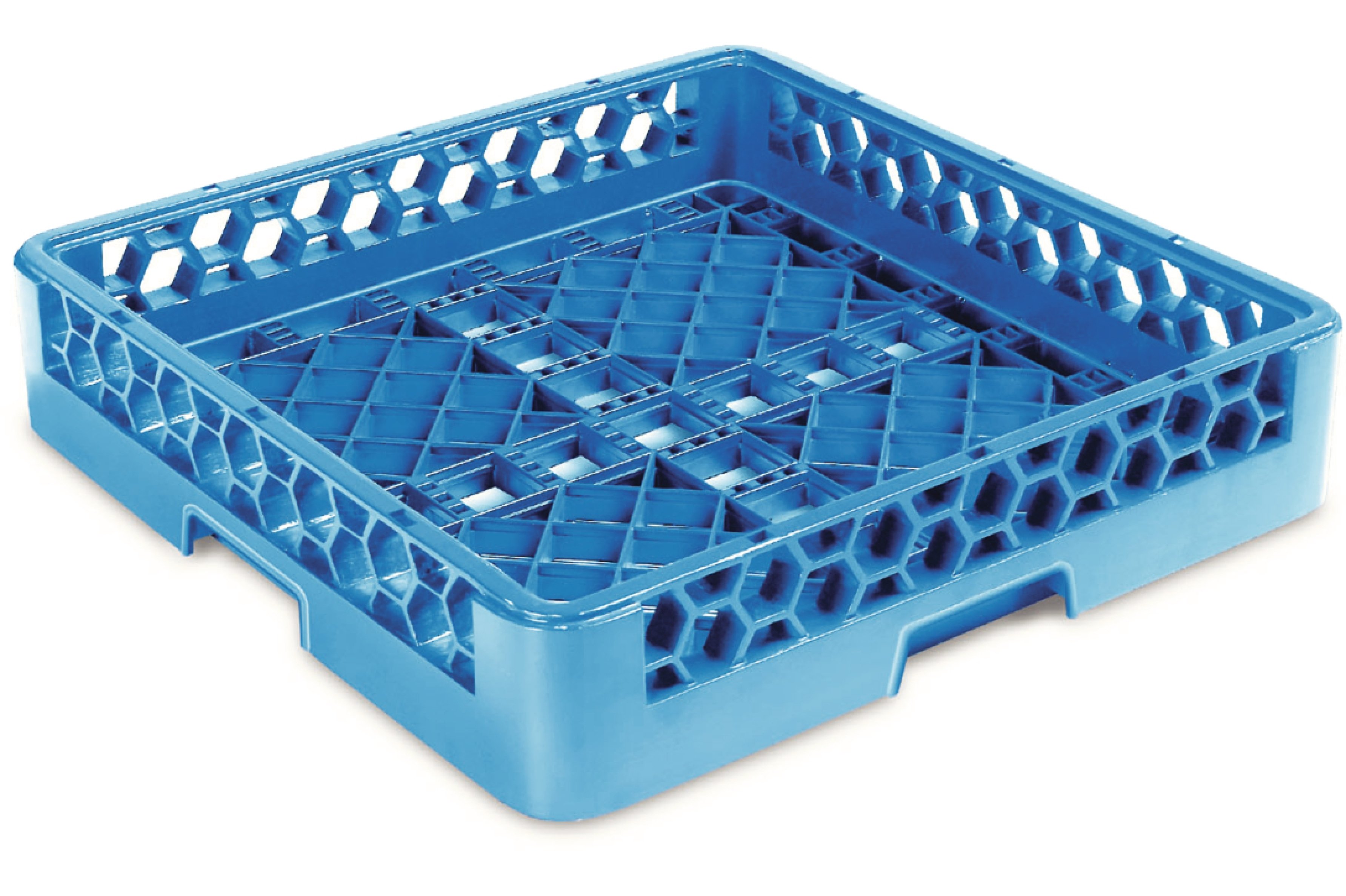 Benefits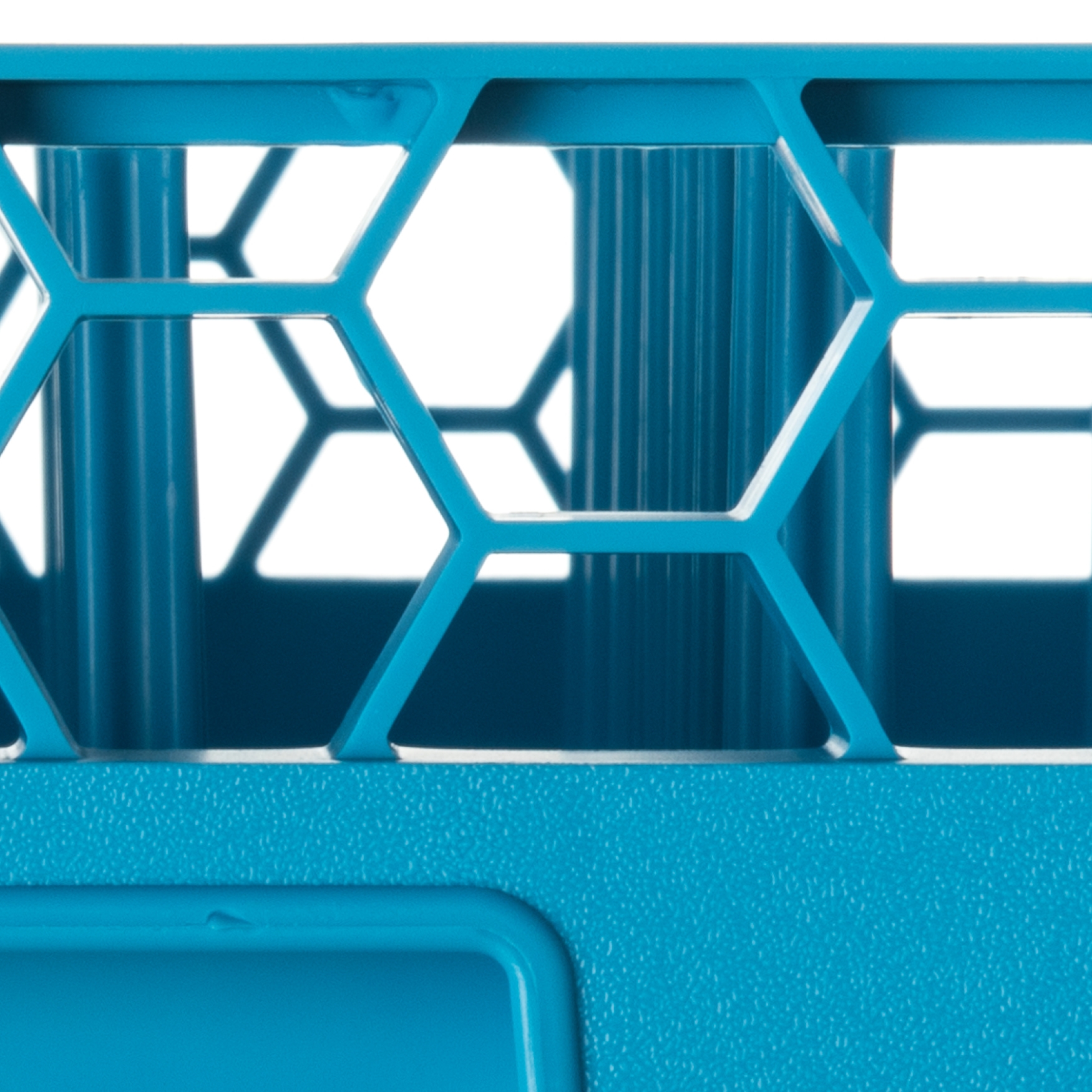 Honeycomb Design
Ensures durability, weight dispersion and the free flow of water and soap.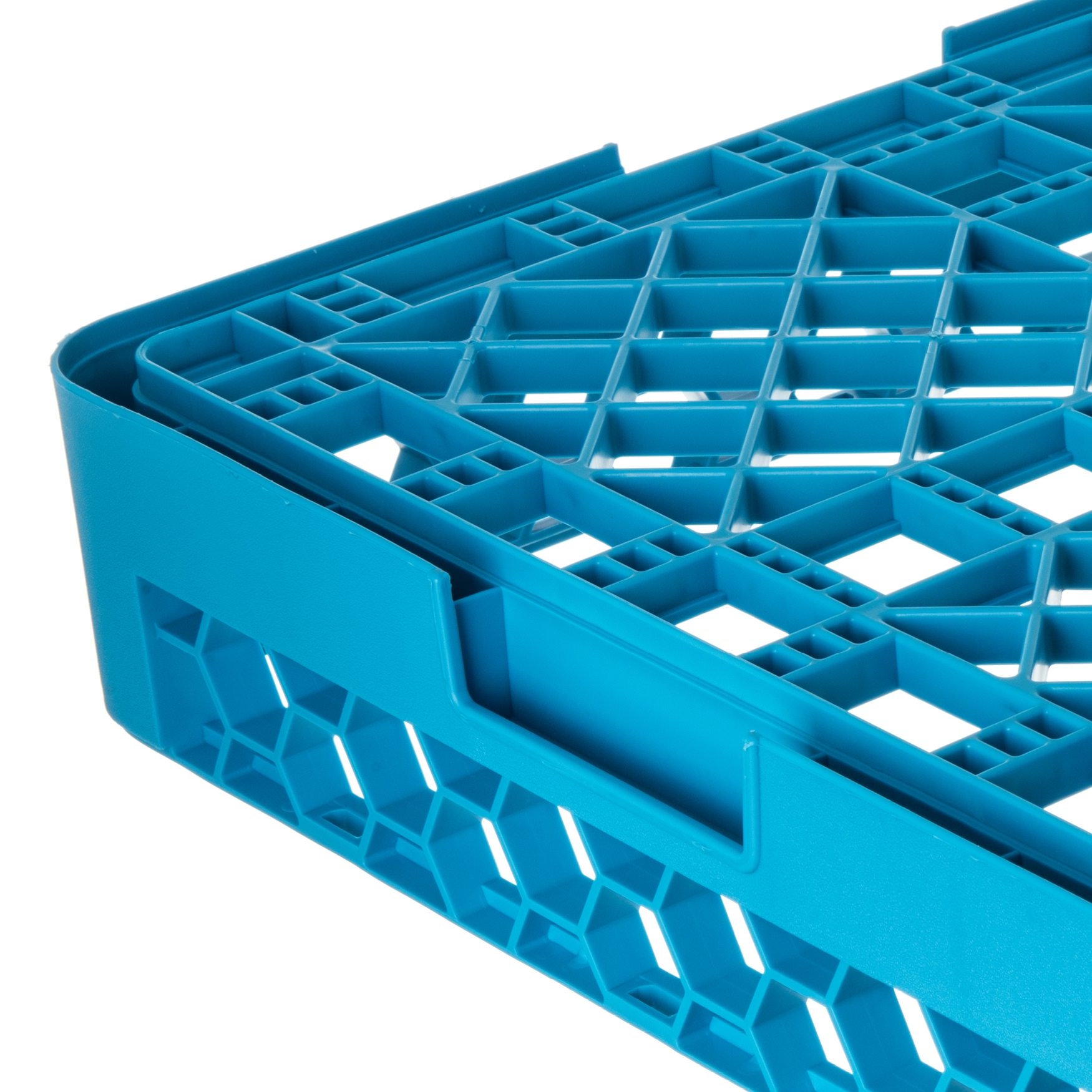 Rounded Edges
Discourages clinging food particles and releases dirty water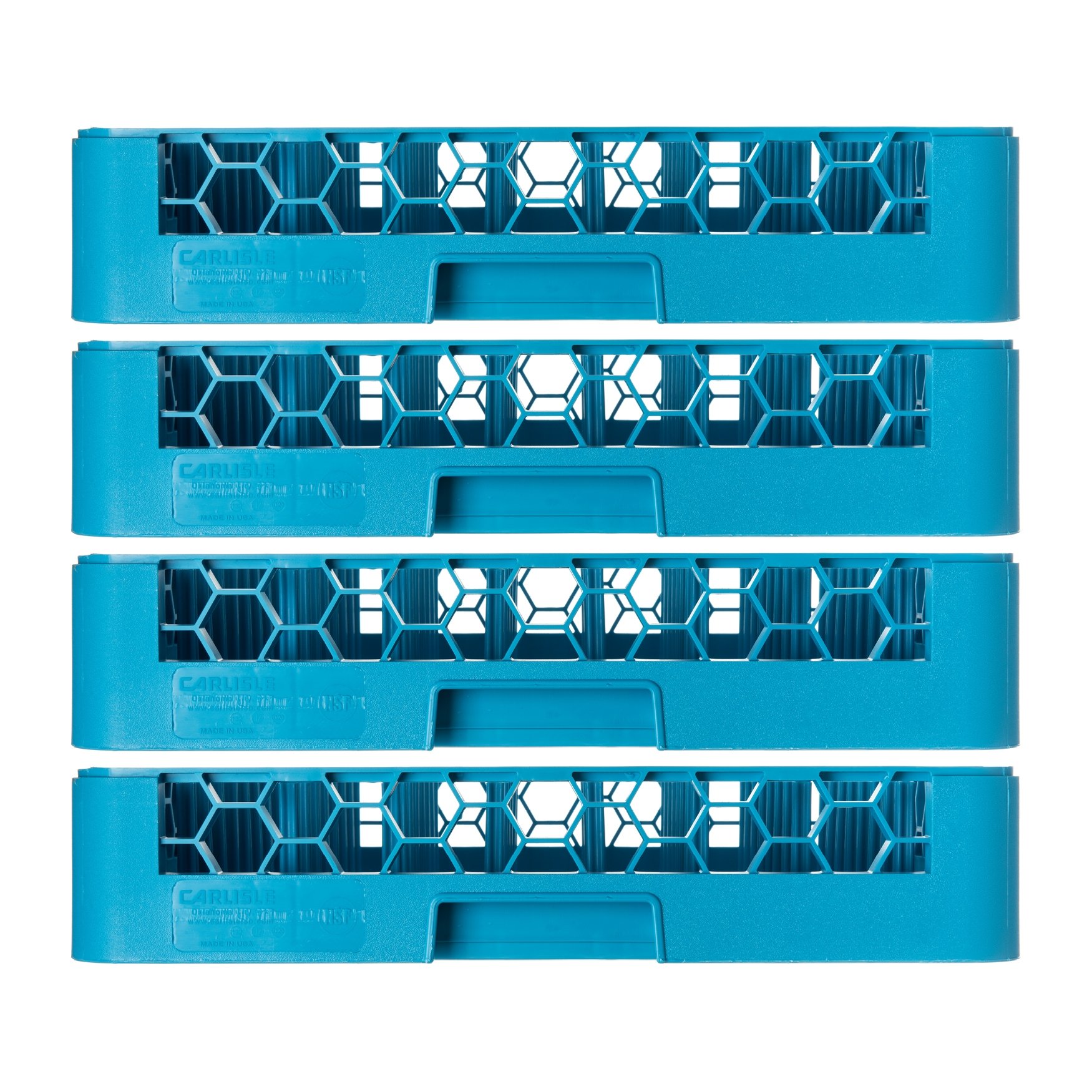 Secure Universal Stacking
Ensures a smooth transition to Carlisle washracks from other industry racks without interrupting workflow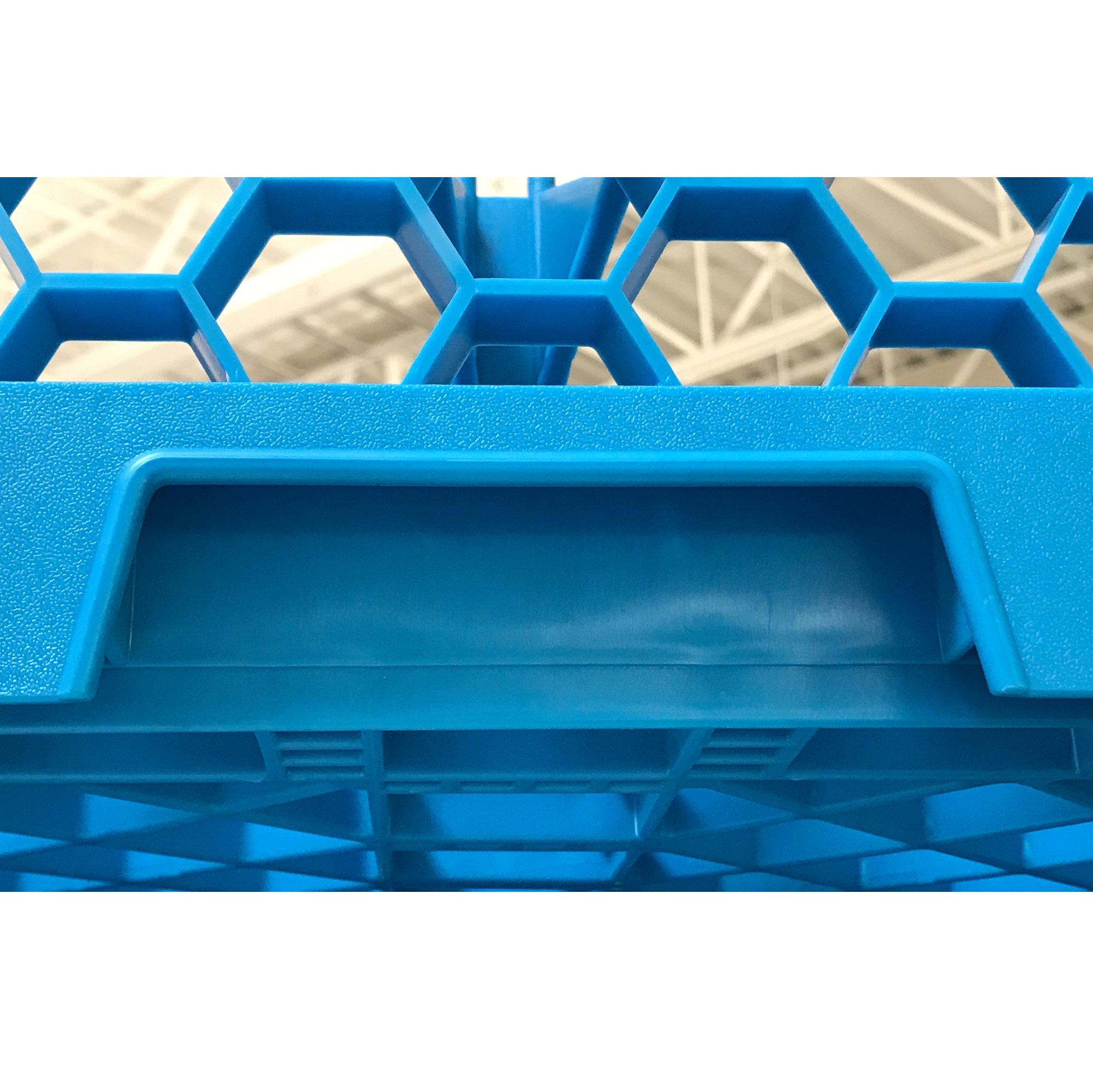 Comfort Curve Handles
Comfortable carrying on all four sides of rack
Products
Product
Description
Case
Pack
Weight
Cube
Peg Racks
RP
OptiClean™ All-Purpose Peg Dish Rack 2.5" Pegs
6ea
29.00lb
5.66ft³
RTP
OptiClean™ All-Purpose Peg Dish Rack 3" Pegs
6ea
27.70lb
5.74ft³
ROP
OptiClean™ Open-End All-Purpose Peg Dish Rack 3" Pegs
6ea
26.25lb
5.72ft³
RE
OptiClean™ Open Glass Rack Extender 1.5" Extension
6ea
7.25lb
3.07ft³
Product
Case
Length
Width
Height
Weight
Min Temperature
Max Temperature
Compartment Width
Inside Height
Outside Height
Peg Height
Pack
Weight
Cube
Peg Racks
RP
6ea
29.00lb
5.66ft3
19.88in
19.88in
-40.00°F
180.00°F
3.20in
4.00in
2.50in
RTP
6ea
27.70lb
5.74ft3
19.88in
19.88in
4.62lb
-40.00°F
180.00°F
3.20in
4.00in
3.00in
ROP
6ea
26.25lb
5.72ft3
19.88in
19.88in
4.46lb
-40.00°F
180.00°F
3.20in
4.00in
3.00in
RE
6ea
7.25lb
3.07ft3
19.88in
19.88in
1.78in
1.29lb
-40.00°F
180.00°F
4.45in
1.57in
1.78in
Product
Case
Length
Width
Height
Weight
Min Temperature
Max Temperature
Compartment Width
Inside Height
Outside Height
Peg Height
Pack
Weight
Cube
Peg Racks
RP
6ea
29.00kg
5.66m3
50.50cm
50.50cm
-40.00°C
82.22°C
8.13cm
10.16cm
6.35cm
RTP
6ea
27.70kg
5.74m3
50.50cm
50.50cm
2.10kg
-40.00°C
82.22°C
8.13cm
10.16cm
7.62cm
ROP
6ea
26.25kg
5.72m3
50.50cm
50.50cm
2.02kg
-40.00°C
82.22°C
8.13cm
10.16cm
7.62cm
RE
6ea
7.25kg
3.07m3
50.50cm
50.50cm
4.52cm
0.59kg
-40.00°C
82.22°C
11.30cm
3.99cm
4.52cm
Product
Description
Case
Pack
Weight
Cube
Open Racks
RB
OptiClean™ Open Bowl Rack 3.25
6ea
21.35lb
5.76ft³
RF
OptiClean™ Flatware Rack 18.25" Compartment
6ea
24.15lb
5.75ft³
RE
OptiClean™ Open Glass Rack Extender 1.5" Extension
6ea
7.25lb
3.07ft³
Product
Case
Length
Width
Height
Weight
Min Temperature
Max Temperature
Compartment Depth
Compartment Width
Inside Height
Inside Width
Outside Height
Pack
Weight
Cube
Open Racks
RB
6ea
21.35lb
5.76ft3
19.88in
19.88in
4.00in
3.71lb
-40.00°F
180.00°F
3.50in
RF
6ea
24.15lb
5.75ft3
19.88in
19.88in
4.19lb
-40.00°F
180.00°F
3.20in
18.25in
4.00in
RE
6ea
7.25lb
3.07ft3
19.88in
19.88in
1.78in
1.29lb
-40.00°F
180.00°F
4.45in
1.57in
1.78in
Product
Case
Length
Width
Height
Weight
Min Temperature
Max Temperature
Compartment Depth
Compartment Width
Inside Height
Inside Width
Outside Height
Pack
Weight
Cube
Open Racks
RB
6ea
21.35kg
5.76m3
50.50cm
50.50cm
10.16cm
1.68kg
-40.00°C
82.22°C
8.89cm
RF
6ea
24.15kg
5.75m3
50.50cm
50.50cm
1.90kg
-40.00°C
82.22°C
8.13cm
46.36cm
10.16cm
RE
6ea
7.25kg
3.07m3
50.50cm
50.50cm
4.52cm
0.59kg
-40.00°C
82.22°C
11.30cm
3.99cm
4.52cm
Product
Description
Case
Pack
Weight
Cube
Cup Racks
RC16
OptiClean™ 16-Compartment Divided Tilted Glass Rack 16 Compartment
6ea
32.00lb
5.99ft³
RC16-1
OptiClean™ 16-Compartment Divided Tilted Glass Rack with 1 Open Extender 16 Compartment
4ea
24.75lb
5.53ft³
RC20
OptiClean™ 20-Compartment Divided Tilted Glass Rack 20 Compartment
6ea
30.25lb
5.76ft³
RC20-1
OptiClean™ 20-Compartment Divided Tilted Glass Rack with 1 Open Extender 20 Compartment
4ea
24.80lb
5.51ft³
Product
Case
Length
Width
Height
Weight
Min Temperature
Max Temperature
Compartment Depth
Compartment Length
Compartment Width
Inside Height
Tilt Height
Pack
Weight
Cube
Cup Racks
RC16
6ea
32.00lb
5.99ft3
19.88in
19.88in
4.00in
5.33lb
-40.00°F
180.00°F
3.50in
4.30in
4.30in
3.20in
2.70in
RC16-1
4ea
24.75lb
5.53ft3
19.88in
19.88in
5.50in
6.21lb
-40.00°F
180.00°F
4.75in
4.30in
4.30in
4.28in
RC20
6ea
30.25lb
5.76ft3
19.88in
19.88in
4.00in
5.37lb
-40.00°F
180.00°F
3.50in
4.31in
3.40in
3.20in
2.70in
RC20-1
4ea
24.80lb
5.51ft3
19.88in
19.88in
5.50in
6.40lb
-40.00°F
180.00°F
4.75in
4.31in
3.40in
4.28in
Product
Case
Length
Width
Height
Weight
Min Temperature
Max Temperature
Compartment Depth
Compartment Length
Compartment Width
Inside Height
Tilt Height
Pack
Weight
Cube
Cup Racks
RC16
6ea
32.00kg
5.99m3
50.50cm
50.50cm
10.16cm
2.42kg
-40.00°C
82.22°C
8.89cm
10.92cm
10.92cm
8.13cm
6.86cm
RC16-1
4ea
24.75kg
5.53m3
50.50cm
50.50cm
13.97cm
2.82kg
-40.00°C
82.22°C
12.06cm
10.92cm
10.92cm
10.87cm
RC20
6ea
30.25kg
5.76m3
50.50cm
50.50cm
10.16cm
2.44kg
-40.00°C
82.22°C
8.89cm
10.95cm
8.64cm
8.13cm
6.86cm
RC20-1
4ea
24.80kg
5.51m3
50.50cm
50.50cm
13.97cm
2.90kg
-40.00°C
82.22°C
12.06cm
10.95cm
8.64cm
10.87cm