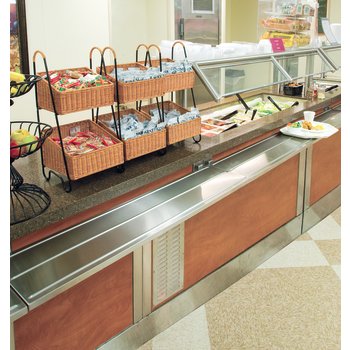 DineXpress modular counters offer unlimited options for customization and design. While Dinex counters are available for the conventional trayline and kitchen systems, they can now be completely upgraded for your front-of-the-house serving systems.
DineXpress counters offer a wide variety of options and accessories, from decorative Protector Guards (sneeze guards) to customized shelves, tray slides and cutouts. Counter styles and sizes range from a simple cashier stand to a 91˝ urn stand, with under-storage.
All DineXpress equipment features a unique, interlocking EZ-Connect system for joining any combination of counters. They also offer the "Easy-Access Drawer"; a drop down panel (removable faceplate) that allows quick access to the heating elements and wiring. An industry first!
We do not accept returns on any Dinex equipment or Dinex custom products. Please contact your local Dinex rep to ensure order accuracy prior to ordering.
Product
Description
Case
Pack
Weight
Cube
DineXpress® Laminated Panels For Doors
DXFLPD2
Formica Laminate Panels for hinged door - 2 well, 1 door
1ea
2.00lb
DXFLPD3
Formica Laminate Panels for hinged door - 3 well, 2 doors
1ea
4.00lb
DXFLPD4
Formica Laminate Panels for hinged door - 4 well, 4 doors
1ea
8.00lb
DXFLPD5
Formica Laminate Panels for hinged door - 5 well, 4 doors
1ea
8.00lb
DXFLPD6
Formica Laminate Panels for hinged door - 6 well, 4 doors
1ea
8.00lb
DineXpress® Hot Food Counters
DXDHF2
Hot Food Counter - 2 well
1ea
415.00lb
21.88ft³
DXDHF3
Hot Food Counter - 3 well
1ea
505.00lb
30.62ft³
DXDHF4
Hot Food Counter - 4 well
1ea
590.00lb
39.38ft³
DXDHF5
Hot Food Counter - 5 well
1ea
665.00lb
48.12ft³
DXDHF6
Hot Food Counter - 6 well
1ea
755.00lb
56.88ft³
DineXpress® Hot Food Counters With Heat-in-Base
DXDHF2HIB
Hot Food Counter - 2 well with heat-in-base
1ea
395.00lb
21.88ft³
DXDHF3HIB
Hot Food Counter - 3 well with heat-in-base
1ea
500.00lb
30.62ft³
DXDHF4HIB
Hot Food Counter - 4 well with heat-in-base
1ea
580.00lb
39.38ft³
DXDHF5HIB
Hot Food Counter - 5 well with heat-in-base
1ea
675.00lb
48.12ft³
DXDHF6HIB
Hot Food Counter - 6 well with heat-in-base
1ea
755.00lb
56.88ft³
DineXpress® Hot Top Counters
DXDHT2
Hot Top Counter - 2 well
1ea
350.00lb
21.88ft³
DXDHT3
Hot Top Counter - 3 well
1ea
440.00lb
30.62ft³
DXDHT4
Hot Top Counter - 4 well
1ea
440.00lb
39.38ft³
DXDHT5
Hot Top Counter - 5 well
1ea
440.00lb
48.12ft³
DXDHT6
Hot Top Counter - 6 well
1ea
440.00lb
56.88ft³
DineXpress® Hot Top Counters With Heat-in-Base
DXDHT2HIB
Hot Top Counter - 2 well with heat-in-base
1ea
0.50lb
DXDHT3HIB
Hot Top Counter - 3 well with heat-in-base
1ea
0.50lb
DXDHT4HIB
Hot Top Counter - 4 well with heat-in-base
1ea
0.50lb
DXDHT5HIB
Hot Top Counter - 5 well with heat-in-base
1ea
440.00lb
48.12ft³
DXDHT6HIB
Hot Top Counter - 6 well with heat-in-base
1ea
0.50lb
DineXpress® Specialty Counters
DXDHF2SL
Slim Line Hot Food- 2 well
1ea
350.00lb
19.79ft³
DXDHF3SL
Slim Line Hot Food- 3 well
1ea
375.00lb
28.90ft³
DXDHF3LL
˝L˝ Shape Hot Food- 3 well left
1ea
410.00lb
51.04ft³
DXDHF3LR
˝L˝ Shape Hot Food- 3 well right
1ea
410.00lb
51.04ft³
DXDHF4LL
˝L˝ Shape Hot Food- 4 well left
1ea
420.00lb
65.62ft³
DXDHF4LR
˝L˝ Shape Hot Food- 4 well right
1ea
420.00lb
65.62ft³
DXDHF5LL
˝L˝ Shape Hot Food- 5 well left
1ea
460.00lb
80.21ft³
DXDHF5LR
˝L˝ Shape Hot Food- 5 well right
1ea
460.00lb
80.21ft³
DineXpress® Hot/Cold Food Counters
DXDHC2
Hot/Cold Food Counter - 2 well
1ea
390.00lb
DXDHC3
Hot/Cold Food Counter - 3 well
1ea
430.00lb
53.75ft³
DXDHC4
Hot/Cold Food Counter - 4 well
1ea
470.00lb
DXDHC5
Hot/Cold Food Counter - 5 well
1ea
510.00lb
DXDHC6
Hot/Cold Food Counter - 6 well
1ea
555.00lb
Cold Food Counters with 9.44" Deep Wells
DXDCF27
Cold Food NSF7 - 2 well
1ea
455.00lb
21.88ft³
DXDCF37
Cold Food NSF7 - 3 well
1ea
525.00lb
30.62ft³
DXDCF47
Cold Food NSF7 - 4 well
1ea
595.00lb
39.38ft³
DXDCF57
Cold Food NSF7 - 5 well
1ea
675.00lb
48.12ft³
DXDCF67
Cold Food NSF7 - 6 well
1ea
745.00lb
56.88ft³
Cold Food Counters with 5" Deep Wells
DXDCF2
Cold Food Counter - 2 well
1ea
390.00lb
DXDCF3
Cold Food Counter - 3 well
1ea
430.00lb
30.62ft³
DXDCF4
Cold Food Counter - 4 well
1ea
470.00lb
39.38ft³
DXDCF5
Cold Food Counter - 5 well
1ea
510.00lb
48.12ft³
DXDCF6
Cold Food Counter - 6 well
1ea
555.00lb
56.88ft³
DineXpress® Cold Food Counters With Non Refrigerated Ice Wells
DXDCF2NR
Cold Food Counter- Ice Well/ 2 well
1ea
290.00lb
DXDCF3NR
Cold Food Counter- Ice Well/ 3 well
1ea
330.00lb
DXDCF4NR
Cold Food Counter- Ice Well/ 4 well
1ea
370.00lb
DXDCF5NR
Cold Food Counter- Ice Well/ 5 well
1ea
410.00lb
DXDCF6NR
Cold Food Counter- Ice Well/ 6 well
1ea
450.00lb
DineXpress® Frost Top Counters
DXDFT2
Frost Top Cold Food Counter - 2 well
1ea
290.00lb
DXDFT3
Frost Top Cold Food Counter - 3 well
1ea
330.00lb
DXDFT4
Frost Top Cold Food Counter - 4 well
1ea
370.00lb
DXDFT5
Frost Top Cold Food Counter - 5 well
1ea
410.00lb
DXDFT6
Frost Top Cold Food Counter - 6 well
1ea
450.00lb
DineXpress® Carving Counter
DXDMC2
Meat Carving Counter w/ cutting board, heat lamp, drip pan
1ea
415.00lb
21.88ft³
DineXpress® Corner Counters
DXDCR45
Corner Counter with 45 degree cabinet
1ea
275.00lb
DXDCR90
Corner Counter with 90 degree cabinet
1ea
275.00lb
DineXpress® Solid Top Counters
DXDST2
Solid Top Counter
1ea
340.00lb
21.88ft³
DXDST3
Solid Top Counter
1ea
395.00lb
30.62ft³
DXDST4
Solid Top Counter
1ea
455.00lb
39.38ft³
DXDST5
Solid Top Counter
1ea
521.00lb
138.56ft³
DXDST6
Solid Top Counter
1ea
585.00lb
56.88ft³
DineXpress® Berverage Urn Stands
DXDUS2
Beverage Urn Stand
1ea
350.00lb
21.88ft³
DXDUS3
Beverage Urn Stand
1ea
405.00lb
30.62ft³
DXDUS4
Beverage Urn Stand
1ea
465.00lb
39.38ft³
DXDUS5
Beverage Urn Stand
1ea
531.00lb
48.12ft³
DXDUS6
Beverage Urn Stand
1ea
595.00lb
56.88ft³
Solid Top Counters
DXDST2
35" Solid Top Counter
1ea
340.00lb
21.88ft³
DXDST3
49" Solid Top Counter
1ea
395.00lb
30.62ft³
DXDST4
63" Solid Top Counter
1ea
455.00lb
39.38ft³
DXDST5
77" Solid Top Counter
1ea
521.00lb
138.56ft³
DXDST6
91" Solid Top Counter
1ea
585.00lb
56.88ft³
Cashier Stands
DXDCS
Cashier Stand Without Drawer
1ea
160.00lb
18.75ft³
DXDCSD
Cashier Stand With Drawer
1ea
165.00lb
18.75ft³
DineXpress® Ice Cream Freezer
DXDICF
DICF Ice Cream Freezer, 5.0 Cubic Fee
1ea
460.00lb
31.25ft³
Milk Cooler
DXDMC
DMC Milk Cooler 5.0 Cubic Feet
1ea
460.00lb
DineXpress® Fill Accessories For Hot Food Counters
DXDHAF
Auto-Fill for Hot Food Counters
1ea
0.50lb
DineXpress® Manifold Drains For Hot Food Counters
DXMD2
Manifold Drain for 2 well
1ea
50.00lb
DXMD3
Manifold Drain for 3 well
1ea
65.00lb
DXMD4
Manifold Drain for 4 well
1ea
70.00lb
DXMD5
Manifold Drain for 5 well
1ea
75.00lb
DXMD6
Manifold Drain for 6 well
1ea
80.00lb
DXMDEDRN
Electric Drain, 208v - For Hot Food Counters
1ea
2.00lb
DXMDID
Shut-Off Valve for individual drain
1ea
0.50lb
DineXpress® Solid Ribbed Tray Slides
DXTSSR5
12˝ Solid Ribbed Tray Slide - 5 well
1ea
39.00lb
DineXpress® Intermediate Under Shelf
DXINTS4
Intermediate Under Shelf - 4 well
1ea
78.00lb
DineXpress® Cold-in-Base For Cold Food Counters
DXCIB
Cold-In-Base with 2 Cold Packs
1ea
150.00lb
DineXpress® Adjustable Caster Upgrades
DXAC54
Adjustable 4 caster upgrade; 2 with brakes 5˝ - 2-4 well
1ea
0.50lb
DXAC56
Adjustable 6 caster upgrade; 2 with brakes 5˝ - 5-6 well
1ea
0.50lb
Soup Well Adaptors and Inserts
DXSWA7
Adaptor turns 12 x 20 well into 2-7quart
1ea
0.50lb
DXSWA711
Adaptor turns 12 x 20 well into 1-7 quart and 1-11quart
1ea
0.50lb
DXSWI7
7 quart round insert with lid
1ea
0.50lb
DXSWI11
11 quart round insert with lid
1ea
0.50lb
Universal Top For Hot Food Units
DXRUT3
Recessed Universal Top for 12 x 20 & 18 x 26 pans, 3-well
1ea
0.50lb
DXRUT4
Recessed Universal Top for 12 x 20 & 18 x 26 pans, 4-well
1ea
0.50lb
DXRUT5
Recessed Universal Top for 12 x 20 & 18 x 26 pans, 5-well
1ea
0.50lb
DXRUT6
Recessed Universal Top for 12 x 20 & 18 x 26 pans, 6-well
1ea
0.50lb
Correctional Options
DXLCFC
Locking Cover For Controls
1ea
0.50lb
DXTPFP
Tamper Proof Fastener Package
1ea
0.50lb
DineXpress® Overhead Shelf
DXOHS3
Over Head Shelf - 3 well
1ea
28.00lb
Self Service Guards (Buffet) Single sided
DXSSG15
Self Service Guard Single Sided 5 well
1ea
74.00lb
Product
Case
Length
Width
Height
Diameter
Depth
With Casters Height
Pack
Weight
Cube
DineXpress® Laminated Panels For Doors
DXFLPD2
1ea
2.00lb
DXFLPD3
1ea
4.00lb
DXFLPD4
1ea
8.00lb
DXFLPD5
1ea
8.00lb
DXFLPD6
1ea
8.00lb
DineXpress® Hot Food Counters
DXDHF2
1ea
415.00lb
21.88ft3
35.00in
36.00in
30.00in
DXDHF3
1ea
505.00lb
30.62ft3
49.00in
36.00in
30.00in
DXDHF4
1ea
590.00lb
39.38ft3
63.00in
36.00in
30.00in
DXDHF5
1ea
665.00lb
48.12ft3
77.00in
36.00in
30.00in
DXDHF6
1ea
755.00lb
56.88ft3
91.00in
36.00in
30.00in
DineXpress® Hot Food Counters With Heat-in-Base
DXDHF2HIB
1ea
395.00lb
21.88ft3
35.00in
36.00in
30.00in
DXDHF3HIB
1ea
500.00lb
30.62ft3
49.00in
36.00in
30.00in
DXDHF4HIB
1ea
580.00lb
39.38ft3
63.00in
36.00in
30.00in
DXDHF5HIB
1ea
675.00lb
48.12ft3
77.00in
36.00in
30.00in
DXDHF6HIB
1ea
755.00lb
56.88ft3
91.00in
36.00in
30.00in
DineXpress® Hot Top Counters
DXDHT2
1ea
350.00lb
21.88ft3
35.00in
36.00in
30.00in
DXDHT3
1ea
440.00lb
30.62ft3
49.00in
36.00in
30.00in
DXDHT4
1ea
440.00lb
39.38ft3
63.00in
36.00in
30.00in
DXDHT5
1ea
440.00lb
48.12ft3
77.00in
36.00in
30.00in
DXDHT6
1ea
440.00lb
56.88ft3
91.00in
36.00in
30.00in
DineXpress® Hot Top Counters With Heat-in-Base
DXDHT2HIB
1ea
0.50lb
35.00in
36.00in
30.00in
DXDHT3HIB
1ea
0.50lb
49.00in
36.00in
30.00in
DXDHT4HIB
1ea
0.50lb
63.00in
36.00in
30.00in
DXDHT5HIB
1ea
440.00lb
48.12ft3
77.00in
36.00in
30.00in
DXDHT6HIB
1ea
0.50lb
91.00in
36.00in
30.00in
DineXpress® Specialty Counters
DXDHF2SL
1ea
350.00lb
19.79ft3
19.00in
36.00in
19.00in
DXDHF3SL
1ea
375.00lb
28.90ft3
77.00in
36.00in
19.00in
DXDHF3LL
1ea
410.00lb
51.04ft3
35.00in
36.00in
55.25in
DXDHF3LR
1ea
410.00lb
51.04ft3
35.00in
55.25in
55.25in
DXDHF4LL
1ea
420.00lb
65.62ft3
49.00in
36.00in
55.25in
DXDHF4LR
1ea
420.00lb
65.62ft3
49.00in
36.00in
55.25in
DXDHF5LL
1ea
460.00lb
80.21ft3
63.00in
36.00in
140.00in
DXDHF5LR
1ea
460.00lb
80.21ft3
63.00in
36.00in
55.25in
DineXpress® Hot/Cold Food Counters
DXDHC2
1ea
390.00lb
35.00in
36.00in
30.00in
DXDHC3
1ea
430.00lb
53.75ft3
49.00in
36.00in
30.00in
DXDHC4
1ea
470.00lb
63.00in
36.00in
30.00in
DXDHC5
1ea
510.00lb
77.00in
36.00in
30.00in
DXDHC6
1ea
555.00lb
91.00in
36.00in
30.00in
Cold Food Counters with 9.44" Deep Wells
DXDCF27
1ea
455.00lb
21.88ft3
35.00in
36.00in
30.00in
DXDCF37
1ea
525.00lb
30.62ft3
49.00in
36.00in
30.00in
DXDCF47
1ea
595.00lb
39.38ft3
63.00in
36.00in
30.00in
DXDCF57
1ea
675.00lb
48.12ft3
77.00in
36.00in
30.00in
DXDCF67
1ea
745.00lb
56.88ft3
91.00in
36.00in
30.00in
Cold Food Counters with 5" Deep Wells
DXDCF2
1ea
390.00lb
35.00in
36.00in
30.00in
DXDCF3
1ea
430.00lb
30.62ft3
49.00in
36.00in
30.00in
DXDCF4
1ea
470.00lb
39.38ft3
63.00in
36.00in
30.00in
DXDCF5
1ea
510.00lb
48.12ft3
77.00in
36.00in
30.00in
DXDCF6
1ea
555.00lb
56.88ft3
91.00in
36.00in
30.00in
DineXpress® Cold Food Counters With Non Refrigerated Ice Wells
DXDCF2NR
1ea
290.00lb
35.00in
36.00in
30.00in
DXDCF3NR
1ea
330.00lb
49.00in
30.00in
DXDCF4NR
1ea
370.00lb
63.00in
36.00in
30.00in
DXDCF5NR
1ea
410.00lb
77.00in
36.00in
30.00in
DXDCF6NR
1ea
450.00lb
91.00in
36.00in
30.00in
DineXpress® Frost Top Counters
DXDFT2
1ea
290.00lb
35.00in
36.00in
30.00in
DXDFT3
1ea
330.00lb
49.00in
36.00in
30.00in
DXDFT4
1ea
370.00lb
63.00in
36.00in
30.00in
DXDFT5
1ea
410.00lb
77.00in
36.00in
30.00in
DXDFT6
1ea
450.00lb
91.00in
36.00in
30.00in
DineXpress® Carving Counter
DXDMC2
1ea
415.00lb
21.88ft3
35.00in
36.00in
30.00in
DineXpress® Corner Counters
DXDCR45
1ea
275.00lb
30.00in
36.00in
30.00in
DXDCR90
1ea
275.00lb
30.00in
36.00in
30.00in
DineXpress® Solid Top Counters
DXDST2
1ea
340.00lb
21.88ft3
35.00in
36.00in
30.00in
DXDST3
1ea
395.00lb
30.62ft3
49.00in
36.00in
30.00in
DXDST4
1ea
455.00lb
39.38ft3
63.00in
36.00in
30.00in
DXDST5
1ea
521.00lb
138.56ft3
77.00in
36.00in
30.00in
DXDST6
1ea
585.00lb
56.88ft3
91.00in
36.00in
30.00in
DineXpress® Berverage Urn Stands
DXDUS2
1ea
350.00lb
21.88ft3
35.00in
36.00in
30.00in
DXDUS3
1ea
405.00lb
30.62ft3
49.00in
36.00in
30.00in
DXDUS4
1ea
465.00lb
39.38ft3
63.00in
36.00in
30.00in
DXDUS5
1ea
531.00lb
48.12ft3
77.00in
36.00in
30.00in
DXDUS6
1ea
595.00lb
56.88ft3
91.00in
36.00in
30.00in
Solid Top Counters
DXDST2
1ea
340.00lb
21.88ft3
35.00in
36.00in
30.00in
DXDST3
1ea
395.00lb
30.62ft3
49.00in
36.00in
30.00in
DXDST4
1ea
455.00lb
39.38ft3
63.00in
36.00in
30.00in
DXDST5
1ea
521.00lb
138.56ft3
77.00in
36.00in
30.00in
DXDST6
1ea
585.00lb
56.88ft3
91.00in
36.00in
30.00in
Cashier Stands
DXDCS
1ea
160.00lb
18.75ft3
30.00in
36.00in
30.00in
DXDCSD
1ea
165.00lb
18.75ft3
30.00in
36.00in
30.00in
DineXpress® Ice Cream Freezer
DXDICF
1ea
460.00lb
31.25ft3
49.00in
36.00in
30.00in
Milk Cooler
DXDMC
1ea
460.00lb
49.00in
36.00in
30.00in
DineXpress® Fill Accessories For Hot Food Counters
DXDHAF
1ea
0.50lb
DineXpress® Manifold Drains For Hot Food Counters
DXMD2
1ea
50.00lb
DXMD3
1ea
65.00lb
DXMD4
1ea
70.00lb
DXMD5
1ea
75.00lb
DXMD6
1ea
80.00lb
DXMDEDRN
1ea
2.00lb
DXMDID
1ea
0.50lb
DineXpress® Solid Ribbed Tray Slides
DXTSSR5
1ea
39.00lb
12.00in
DineXpress® Intermediate Under Shelf
DXINTS4
1ea
78.00lb
DineXpress® Cold-in-Base For Cold Food Counters
DXCIB
1ea
150.00lb
DineXpress® Adjustable Caster Upgrades
DXAC54
1ea
0.50lb
5.00in
DXAC56
1ea
0.50lb
5.00in
Soup Well Adaptors and Inserts
DXSWA7
1ea
0.50lb
DXSWA711
1ea
0.50lb
DXSWI7
1ea
0.50lb
DXSWI11
1ea
0.50lb
Universal Top For Hot Food Units
DXRUT3
1ea
0.50lb
DXRUT4
1ea
0.50lb
DXRUT5
1ea
0.50lb
DXRUT6
1ea
0.50lb
Correctional Options
DXLCFC
1ea
0.50lb
DXTPFP
1ea
0.50lb
DineXpress® Overhead Shelf
DXOHS3
1ea
28.00lb
Self Service Guards (Buffet) Single sided
DXSSG15
1ea
74.00lb
75.00in
Product
Case
Length
Width
Height
Diameter
Depth
With Casters Height
Pack
Weight
Cube
DineXpress® Laminated Panels For Doors
DXFLPD2
1ea
2.00kg
DXFLPD3
1ea
4.00kg
DXFLPD4
1ea
8.00kg
DXFLPD5
1ea
8.00kg
DXFLPD6
1ea
8.00kg
DineXpress® Hot Food Counters
DXDHF2
1ea
415.00kg
21.88m3
88.90cm
91.44cm
76.20cm
DXDHF3
1ea
505.00kg
30.62m3
124.46cm
91.44cm
76.20cm
DXDHF4
1ea
590.00kg
39.38m3
160.02cm
91.44cm
76.20cm
DXDHF5
1ea
665.00kg
48.12m3
195.58cm
91.44cm
76.20cm
DXDHF6
1ea
755.00kg
56.88m3
231.14cm
91.44cm
76.20cm
DineXpress® Hot Food Counters With Heat-in-Base
DXDHF2HIB
1ea
395.00kg
21.88m3
88.90cm
91.44cm
76.20cm
DXDHF3HIB
1ea
500.00kg
30.62m3
124.46cm
91.44cm
76.20cm
DXDHF4HIB
1ea
580.00kg
39.38m3
160.02cm
91.44cm
76.20cm
DXDHF5HIB
1ea
675.00kg
48.12m3
195.58cm
91.44cm
76.20cm
DXDHF6HIB
1ea
755.00kg
56.88m3
231.14cm
91.44cm
76.20cm
DineXpress® Hot Top Counters
DXDHT2
1ea
350.00kg
21.88m3
88.90cm
91.44cm
76.20cm
DXDHT3
1ea
440.00kg
30.62m3
124.46cm
91.44cm
76.20cm
DXDHT4
1ea
440.00kg
39.38m3
160.02cm
91.44cm
76.20cm
DXDHT5
1ea
440.00kg
48.12m3
195.58cm
91.44cm
76.20cm
DXDHT6
1ea
440.00kg
56.88m3
231.14cm
91.44cm
76.20cm
DineXpress® Hot Top Counters With Heat-in-Base
DXDHT2HIB
1ea
0.50kg
88.90cm
91.44cm
76.20cm
DXDHT3HIB
1ea
0.50kg
124.46cm
91.44cm
76.20cm
DXDHT4HIB
1ea
0.50kg
160.02cm
91.44cm
76.20cm
DXDHT5HIB
1ea
440.00kg
48.12m3
195.58cm
91.44cm
76.20cm
DXDHT6HIB
1ea
0.50kg
231.14cm
91.44cm
76.20cm
DineXpress® Specialty Counters
DXDHF2SL
1ea
350.00kg
19.79m3
48.26cm
91.44cm
48.26cm
DXDHF3SL
1ea
375.00kg
28.90m3
195.58cm
91.44cm
48.26cm
DXDHF3LL
1ea
410.00kg
51.04m3
88.90cm
91.44cm
140.34cm
DXDHF3LR
1ea
410.00kg
51.04m3
88.90cm
140.34cm
140.34cm
DXDHF4LL
1ea
420.00kg
65.62m3
124.46cm
91.44cm
140.34cm
DXDHF4LR
1ea
420.00kg
65.62m3
124.46cm
91.44cm
140.34cm
DXDHF5LL
1ea
460.00kg
80.21m3
160.02cm
91.44cm
355.60cm
DXDHF5LR
1ea
460.00kg
80.21m3
160.02cm
91.44cm
140.34cm
DineXpress® Hot/Cold Food Counters
DXDHC2
1ea
390.00kg
88.90cm
91.44cm
76.20cm
DXDHC3
1ea
430.00kg
53.75m3
124.46cm
91.44cm
76.20cm
DXDHC4
1ea
470.00kg
160.02cm
91.44cm
76.20cm
DXDHC5
1ea
510.00kg
195.58cm
91.44cm
76.20cm
DXDHC6
1ea
555.00kg
231.14cm
91.44cm
76.20cm
Cold Food Counters with 9.44" Deep Wells
DXDCF27
1ea
455.00kg
21.88m3
88.90cm
91.44cm
76.20cm
DXDCF37
1ea
525.00kg
30.62m3
124.46cm
91.44cm
76.20cm
DXDCF47
1ea
595.00kg
39.38m3
160.02cm
91.44cm
76.20cm
DXDCF57
1ea
675.00kg
48.12m3
195.58cm
91.44cm
76.20cm
DXDCF67
1ea
745.00kg
56.88m3
231.14cm
91.44cm
76.20cm
Cold Food Counters with 5" Deep Wells
DXDCF2
1ea
390.00kg
88.90cm
91.44cm
76.20cm
DXDCF3
1ea
430.00kg
30.62m3
124.46cm
91.44cm
76.20cm
DXDCF4
1ea
470.00kg
39.38m3
160.02cm
91.44cm
76.20cm
DXDCF5
1ea
510.00kg
48.12m3
195.58cm
91.44cm
76.20cm
DXDCF6
1ea
555.00kg
56.88m3
231.14cm
91.44cm
76.20cm
DineXpress® Cold Food Counters With Non Refrigerated Ice Wells
DXDCF2NR
1ea
290.00kg
88.90cm
91.44cm
76.20cm
DXDCF3NR
1ea
330.00kg
124.46cm
76.20cm
DXDCF4NR
1ea
370.00kg
160.02cm
91.44cm
76.20cm
DXDCF5NR
1ea
410.00kg
195.58cm
91.44cm
76.20cm
DXDCF6NR
1ea
450.00kg
231.14cm
91.44cm
76.20cm
DineXpress® Frost Top Counters
DXDFT2
1ea
290.00kg
88.90cm
91.44cm
76.20cm
DXDFT3
1ea
330.00kg
124.46cm
91.44cm
76.20cm
DXDFT4
1ea
370.00kg
160.02cm
91.44cm
76.20cm
DXDFT5
1ea
410.00kg
195.58cm
91.44cm
76.20cm
DXDFT6
1ea
450.00kg
231.14cm
91.44cm
76.20cm
DineXpress® Carving Counter
DXDMC2
1ea
415.00kg
21.88m3
88.90cm
91.44cm
76.20cm
DineXpress® Corner Counters
DXDCR45
1ea
275.00kg
76.20cm
91.44cm
76.20cm
DXDCR90
1ea
275.00kg
76.20cm
91.44cm
76.20cm
DineXpress® Solid Top Counters
DXDST2
1ea
340.00kg
21.88m3
88.90cm
91.44cm
76.20cm
DXDST3
1ea
395.00kg
30.62m3
124.46cm
91.44cm
76.20cm
DXDST4
1ea
455.00kg
39.38m3
160.02cm
91.44cm
76.20cm
DXDST5
1ea
521.00kg
138.56m3
195.58cm
91.44cm
76.20cm
DXDST6
1ea
585.00kg
56.88m3
231.14cm
91.44cm
76.20cm
DineXpress® Berverage Urn Stands
DXDUS2
1ea
350.00kg
21.88m3
88.90cm
91.44cm
76.20cm
DXDUS3
1ea
405.00kg
30.62m3
124.46cm
91.44cm
76.20cm
DXDUS4
1ea
465.00kg
39.38m3
160.02cm
91.44cm
76.20cm
DXDUS5
1ea
531.00kg
48.12m3
195.58cm
91.44cm
76.20cm
DXDUS6
1ea
595.00kg
56.88m3
231.14cm
91.44cm
76.20cm
Solid Top Counters
DXDST2
1ea
340.00kg
21.88m3
88.90cm
91.44cm
76.20cm
DXDST3
1ea
395.00kg
30.62m3
124.46cm
91.44cm
76.20cm
DXDST4
1ea
455.00kg
39.38m3
160.02cm
91.44cm
76.20cm
DXDST5
1ea
521.00kg
138.56m3
195.58cm
91.44cm
76.20cm
DXDST6
1ea
585.00kg
56.88m3
231.14cm
91.44cm
76.20cm
Cashier Stands
DXDCS
1ea
160.00kg
18.75m3
76.20cm
91.44cm
76.20cm
DXDCSD
1ea
165.00kg
18.75m3
76.20cm
91.44cm
76.20cm
DineXpress® Ice Cream Freezer
DXDICF
1ea
460.00kg
31.25m3
124.46cm
91.44cm
76.20cm
Milk Cooler
DXDMC
1ea
460.00kg
124.46cm
91.44cm
76.20cm
DineXpress® Fill Accessories For Hot Food Counters
DXDHAF
1ea
0.50kg
DineXpress® Manifold Drains For Hot Food Counters
DXMD2
1ea
50.00kg
DXMD3
1ea
65.00kg
DXMD4
1ea
70.00kg
DXMD5
1ea
75.00kg
DXMD6
1ea
80.00kg
DXMDEDRN
1ea
2.00kg
DXMDID
1ea
0.50kg
DineXpress® Solid Ribbed Tray Slides
DXTSSR5
1ea
39.00kg
30.48cm
DineXpress® Intermediate Under Shelf
DXINTS4
1ea
78.00kg
DineXpress® Cold-in-Base For Cold Food Counters
DXCIB
1ea
150.00kg
DineXpress® Adjustable Caster Upgrades
DXAC54
1ea
0.50kg
12.70cm
DXAC56
1ea
0.50kg
12.70cm
Soup Well Adaptors and Inserts
DXSWA7
1ea
0.50kg
DXSWA711
1ea
0.50kg
DXSWI7
1ea
0.50kg
DXSWI11
1ea
0.50kg
Universal Top For Hot Food Units
DXRUT3
1ea
0.50kg
DXRUT4
1ea
0.50kg
DXRUT5
1ea
0.50kg
DXRUT6
1ea
0.50kg
Correctional Options
DXLCFC
1ea
0.50kg
DXTPFP
1ea
0.50kg
DineXpress® Overhead Shelf
DXOHS3
1ea
28.00kg
Self Service Guards (Buffet) Single sided
DXSSG15
1ea
74.00kg
190.50cm